Smoke Street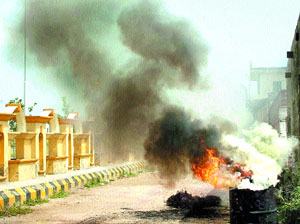 A scrap dealer burns wires to collect copper right in the middle of the street in Butan Mandi in Jalandhar. Photo: S.S. Chopra
Forum Order
Sale shock: Firm told to replace defective T-shirts
Jalandhar, September 4
The state consumer disputes redressal forum has directed the ITC company and its John Player flagship store Marrin Creations here to refund the amount of three defective shirts that a complainant had purchased during sales, pay up Rs 3,000 as compensation and Rs 2,000
as cost of litigation.
Beijing has set a benchmark
Beijing Olympics '08 is over but not the zeal and zest of the Indians who have been left enriched with the experience of having three medals - one gold and two bronze - in the individual category.
Ganpati Bappa Morya...
Get frenzied by the opulent orgy of the Ganpati utsav. The whole country seems to capture the vibes of Ganesha celebrations.
VAIL to set up new unit
Jalandhar, September 4
The city-based Vinko Auto Industries Limited (VAIL), which bagged the national award for its outstanding quality products, is ready with its expansion plans and would pump in Rs 10 crore to set up another plant in the Raowali industrial estate of the district.
Mohinder Gupta, managing director, Vinko Auto Industries Ltd, receives the national award for quality from the union minister of micro, small, medium enterprises Mahavir Prasad at Vigyan Bhawan, New Delhi.

Talk on holistic healing
Jalandhar, September 4
The Inner-Wheel Club members were told about various holistic healing techniques during their monthly meeting held here on Wednesday.

St Soldier swimmers win 18 medals
Jalandhar, September 4
Swimmers of St. Soldier Divine Public School, Mithu Basti, won 18 medals in the inter-school (CBSE schools) sahodya swimming championship, 2008, held at CT Public School. Eeha Rampal
Jessica's 'deal with death'
Pop singer Jessica Simpson has admitted that her divorce from ex-husband Nick Lachey was like "dealing with death" after it was made public.