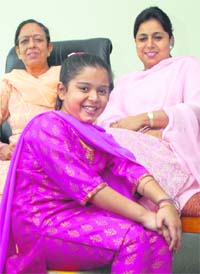 Gen X to Gen WHY
This Teacher's Day, we catch up with gurus who have taught different generations of a family. Here's the chapter on the change...
Tutoring us about everything, from the A to Z of vocabulary, the pluses and minuses of arithmetic to the world around us and life beyond the planet, it's the teachers who make us what we are today. A guide, a friend and a leader, this Teacher's Day we salute the educationists who have worked through years and taught generations to make the world a better place. And as we celebrate the day dedicated to gurus, we ask them how different is today's generation from their fathers, mothers and aunts and uncles.

All in the family: Satwant Kaur Bedi, Gurkiran Nalwa and Aleema Bedi — Photo by Pradeep Tewari

Cradle to classroom

What happens when your mom also becomes your class teacher? Fun, fiasco and...
They say parents are the best teachers. But what happens when you actually walk up to the class and realise your own kid is in there, a part of the bunch? Is it a cakewalk — for, you have a high degree of comfort with your ward — or a tightrope walk, with an added burden of expectations and increased stress?

Manjit Ahuja with daughter Amanpreet — Photo by
S. Chandan

Objet D' ART
Baaz buzz
Sobha Singh immortalised this bird on canvas. With its strong form and predatory looks, the falcon continues to inspire many artists in this region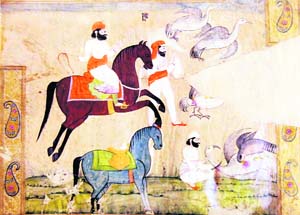 These two belong to the rare category of folios, which the Government Museum and Art Gallery possesses. Not just for their aesthetic value, reflected in the intricately woven forms with Persian text written in nastaliq script or its delicate illuminated border, but for the subject as well. The folios were once used to illustrate the craft of falconry. Even without the help of the text, one can see that the subject deals exclusively with the training of falcons or baaz, as known in Punjab.

BIRD'S EYEVIEW: Two rare folios on the training of falcons, which are now in the possession of the Govt Museum & Art Gallery

Alpine attempt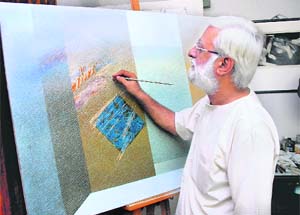 After the Himalayas, it is the Swiss Alps for Brahm Prakash, who has once again picked up oil as a medium
A 10-day excursion in the scenic Swiss Alps is enough to inspire even a non-artist to take up the paint and brush. But when the person in question is veteran artist Brahm Prakash then one just waits with baited breath to watch him paint his nostalgia on canvas. For here, one's imagination does not measure up to the end result.



POOLING AROUND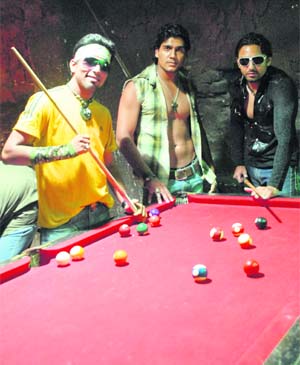 Grabbing eye balls: Lifestyle photo by
Pradeep Tewari
Pain of a poet
Said Milton, "Our sweetest songs are those that tell of saddest thoughts. Beloved are the rhymes enfolding our pangs of sorrow which keep us engaged in life-time struggle, rather than the pleasure which is momentary and short-lived." Taking cue from Milton, homegrown poet Gurbux Saini, has eloquently depicted the concern of the distressed and downtrodden in his five poetry books.
Watch out...
The Chandigarh Lalit Kala Akademi is organising a talk 'Why Art' by eminent poet, art critic and chairman of the Lalit Kala Akademi, New Delhi, Ashok Vajpayi.
Venue: Govt Museum & Art Gallery-10
Date: September 5
Time: 5.30 pm
Nautanki, Nachurally
Taking the nautanki form to the world
As per Allahabad-based thespian Atul Yadvanshi, 'nautanki,' the traditional  theatre that emerges from radical street performances, is the most vibrant form wherein actors hold direct conversation with their audience, look into their eyes and debate urgent issues that require concern."
Window Vistas
Hand maid
It's raining exhibitions. And whetting the appetite of shopholics, Lepakshi Heritage Collection, an annual exhibition comes calling at Panchayat Bhawan-18. Crafted mainly for artisans from Andhra Pradesh, this exhibition sees an array of handicrafts, clothes, soft wood toys, Hyderabad pearls and more.
Cheat to win
The meaner you are, the better chances you have. Learn this through the Roadies' Cheat Code
All set for Roadies 6.0. Along with a mean attitude and crude desire to win, here's that extra ingredient of deception to take you a step closer to your goal. MTV Roadies Cheat Code is just the perfect kit to crack the Roadies auditions. And city girl , VJ Bani, of Roadies 4, has launched the DVDs for this year's aspirants.

Side Lanes
The Parcel
Parcels are exciting. Unexpected ones, even more so. In 1881, my grandfather ordered a gold, engraved pocket watch from Hamilton's, Calcutta. It came to Lahore via dak gari or postal carriage. This meant that bullocks were used along the journey.
Watch your style
Watch wearing seems to have lost some of its charm after the advent of cells. But to bring the watch back on the wrists of youngsters, Sonata, a watch brand from the house of Titan, has made its foray into the youth segment with the launch of their sub-brand Super Fibre. With a price range from Rs 275 to Rs 550 they certainly are targeting the youth and student segment.
NEW RELEASES
Live in?
Mum's the word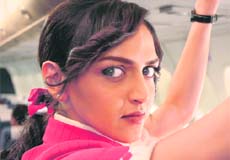 Esha Deol, daughter of actor Dharmendra and Hema Malini, says that her mom wouldn't mind her being in a live-in relationship before marriage and adds that her dream man should be like her dad. "I believe in a love marriage and am looking for a guy who would have some qualities of my father," said Esha, who will be seen next with Shiney Ahuja in Hijack. "I think every girl wants her life partner to have some qualities of her father and I also want the same.
Fact or Fiction
Jagmohan Mundhra's Shoot On Sight in trouble
London-based Indian filmmaker Jagmohan Mundhra, who has made biopics like Provoked in the past, has now been accused of distorting facts in his film Shoot On Sight, which is based on the July 2007 London bombings.
Stunted growth


Shiney Ahuja is the new unconventional leading man of the Bollywood. Last year he had three big banner releases - Metro, Bhool Bhulaiyaa and Khoya Khoya Chand. The audience loved him in these films. Now he has turned to action with Cheetah bhi peeta hai, fame ad-maker Kunal Shivdasani's Hijack. The flick is reportedly inspired by the Bruce Willis starrer Die Hard in which, Shiney has performed incredible stunts. Shiney who plays a ground maintainer officer at Chandigarh Airport gets talking about his up-coming film Hijack which opens this Friday.
AUDIO