Pak preparing for war on India: Obama
Ashish Kumar Sen writes from Washington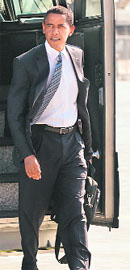 Democratic presidential nominee Sen. Barack Obama says Pakistan is diverting US aid to prepare for a war against India.
The claim, which did not surprise many in Washington, was made in an interview to Fox News' Bill O'Reilly this week. "We are providing them military aid without having enough strings attached... So they're using the aid for preparing for a war against India," Obama said.
Obama's claims will serve to corroborate the concerns of some in Washington that Pakistan has been misusing US aid intended for the war on terror along its border with Afghanistan.
As far back as December of 2007, the New York Times reported, "After the United States has spent more than $5 billion in a largely failed effort to bolster the Pakistani military effort against Al-Qaeda and the Taliban, some American officials now acknowledge that there were too few controls over the money. The strategy to improve the Pakistani military, they said, needs to be completely revamped."
The Times reported that in interviews in Islamabad and Washington, the Bush administration and military officials said they believed that much of the American money was "not making its way to frontline Pakistani units.
Money has been diverted to help finance weapons systems designed to counter India, not Al-Qaeda or the Taliban, the officials said, adding that the US has paid tens of millions of dollars in inflated Pakistani reimbursement claims for fuel, ammunition and other costs."
Asked by O'Reilly whether he would end US support to Pakistan and "let the Islamic fundamentalists take them over," Obama replied: "No, no. What we say is, look, we're going to provide them with additional military support, targeted at terrorists, and we're going to help build their democracy..."
Obama said: "We are going to provide them with additional military support targeted at terrorists… We wasted $10 billion with Musharraf without holding him accountable for knocking out those safe havens" of the terrorists.
"We got to put more pressure on Pakistan to do what they need to do," he added.
Obama had annoyed Islamabad earlier in the presidential campaign by suggesting that as President he would authorise U.S. troops to attack terrorists in Pakistan, regardless of whether the Pakistani government approves. Obama told O'Reilly that"nobody talked about a full-blown invasion" of Pakistan.
This week US forces under President George W. Bush conducted a ground assault in Pakistan's South Waziristan province. The covert operation drew swift condemnation from Pakistan's parliament.
The U.S. Senate is also mulling a Bill, promoted by Obama's running mate, Sen. Joseph R. Biden Jr., to give Pakistan an unconditional $15 billion in developmental aid over a decade. Biden, who is also chairman of the Senate Foreign Relations Committee, has proposed restricting reimbursements for anti-terrorist operations unless Islamabad does more to fight insurgents along its Afghan border. "We should be willing to spend more if we get better returns - and less if we don't," he said.
"We believe we're paying too much and getting too little. The Pakistanis believe exactly the opposite," Biden said at a recent congressional hearing.