Dehra Dun seeks Brazilian boost
Jotirmay Thapliyal
To help develop football in India, the Brazilians are eyeing Dehra Dun and, as a result, the city may finally regain its lost football glory. This also might be the chance to explore its football potential that had produced all-time football greats like Shyam Thapa, Ram Bahadur, Bir Bahadur, and Bhupinder Singh Rawat. Brazilian top flight football club Cruzeiro has expressed its willingness for a tie-up with local football promoting bodies in Dehra Dun and has proposed to constitute a football club with professional backing.


A Tribune photograph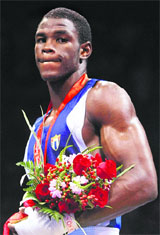 Cuban lords of the ring
Ravi Dhaliwal
With Cuba dominating so overwhelmingly in the boxing ring in Beijing, it surely is time to provide answers to some searching questions about the magic and mystery of Cuban boxing. Cuba won eight medals — four silver and four bronze — at the Beijing Olympics. Why is this tiny Caribbean nation regarded as the world's boxing powerhouse? Why are Cuban boxers technically superior than others? Boxing is taught in innumerable clubs dotting the narrow alleys of Havana. This evening after evening is the same. As the gentle light fades, a sweet chaos prevails in the city.

Emilio Correa of Cuba, Beijing Olympics silver medallist in the middleweight (75kg) category — Reuters photo

Middle-order crisis
Abhijit Chatterjee
The postponement of the Champions Trophy has given the Indian team time to sort out their batting problems
The Indians, who seemed to have now recovered from the shock of losing in the final of the Asia Cup in Pakistan, might have won the one-day series (their first win in Sri Lanka in a bilateral series in 23 years) against the island nation but they did not exactly cover themselves with glory, especially the way they surrendered in the last of the five games.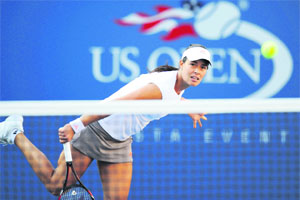 No 1 casualty: Ana Ivanovic
World number one Ana Ivanovic's second round defeat at the hands of 188th-ranked Frenchwoman Julie Coin made it the earliest exit by a women's top seed at the US Open since professionals joined the field in 1968. Ivanovic lost 6-3, 4-6, 6-3. She said she was not bothered by pain from a recent injury to her right thumb, attributing her poor performance more to lack of match practice.