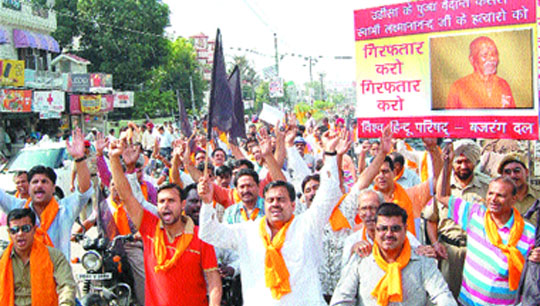 The Vishav Hindu Parishad (VHP) took out a rally, demanding immediate arrest of accused involved in the killing of their leader Swami Laxmananda Saraswati and his followers in Orissa, in Amritsar on Tuesday. The march which started from Shivala Bhaian culminated at DC's office. Photo: Vishal Kumar
Political apathy has stunted city's growth: NGO
Amritsar, September 9
The holy city has been lagging behind in growth and advancement largely due to political apathy and the strong and powerful public role. But a number of NGOs have been making vociferous demands to give a new impetus for the development of the city.
Elevated road to be ready by March next year
Amritsar, September 9 The construction of the elevated road would be completed by March 2009 along with the repairing of city roads at an estimated cost of Rs 80 crore.
Faith Factor
Spiritual-ability contest for Sikh youth
Amritsar, September 9
The Kesh Sambhal Prachar Sanstha (KSPS) would organise a spiritual and general ability (SAGA) contest to be held from November 2 in which the Sikh youth from Amritsar, Jalandhar, Ludhiana, Jammu, Karnal, Delhi, Paonta Sahib, Lucknow, Indore and Mumbai will participate.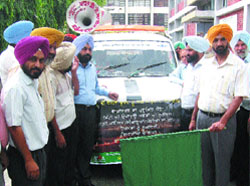 Don't burn stubble, farmers told
Amritsar, September 9
The district administration has launched a major drive in the border belt to make farmers aware of the damage caused to soil nutrients by burning the stubble after harvest. Deputy commissioner KS Pannu flagged off nine special vans, carrying the message of save soil nutrients for the golden harvest.

The agriculture department has started a special drive to raise awareness among farmers in the border belt.
Drivers plying autos with fake licences
Amritsar, September 9 To avoid legal action from the police and transport department, auto-rickshaw drivers here have managed to acquire fake motor documents, including driving licences.The fact came to light when Brij Bedi, social activist, and the chief traffic warden made a surprise check of auto-rickshaw drivers along with a police party by holding a naka near Hussainpura Chowk here today.
US Embassy team to interact with varsity faculty
Amritsar, September 9
Close on the heels of India's major success in getting the NSG waiver at Vienna for the Indo-US nuclear pact, the American Embassy in Delhi has launched a major campaign to win over the Indian public and the media.
Marriage of poor girls solemnised
Amritsar, September 9
The district unit of Red Cross Society today facilitated the marriage of four girls, Puja, Gauri, Aman and Pinki, all residents of Nari Niketan here.
Motivational lecture
Amritsar, September 9
A lecture on 'courage in difficult circumstances' was organised by rotary club, Amritsar on September 3. Jaswant Singh Gill, former executive director of Coal India Limited, while addressing the members gave a brief history of coal mining and hazards related to it.
Book on Baba Jeewan Singh
Tarn Taran, September 9
Avtar Singh Makkar, president of SGPC today released a book on Baba Jeewan Singh by Bishan Singh Gandiwind. The function was held at Gurdwara Beer Baba Budha Sahib, 20 kilometers from here. — OC