Gurus hailed on their day
Tribune News Service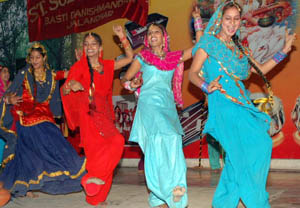 Students of St Soldier College put up an energetic performance during a function in Jalandhar. — A Tribune photograph

Jalandhar, September 9
Students and teachers of the Government College of Education, Jalandhar, celebrated Teachers' Day on September 5. Chief guest former principal of the college Gurdev Singh Sidhu emphasised on maintaining a good teacher-student relationship.
Students of Darshan Academy celebrated Teachers' Day on September 5 by honouring the teachers. They presented a cultural programme on the occasion.
Students of Guru Nanak Dev University College, Basti Nau, also celebrated Teachers' Day by organising special games like quiz, potato peeling and musical chair.
The MGN College of Education marked the celebration by deliberation on the philosophy of eminent teachers like Dr Sarvapalli Radhakrishnan, Dr Zakir Hussain and Dr A.P.J. Abdul Kalam and their contribution to society. Students also spoke on the "relevance of Teachers' Day".
Students and teachers of OXL Clara, Model Town, organised a special event on the occasion of Teachers' Day. As many as 100 new and old teachers came dressed up in sarees.
The CT Public School also celebrated Teachers' Day by organising a tree plantation drive. Teachers planted saplings in Kalia Colony. Teachers held a special assembly.
Students of Emm Aar International School came dressed up like their respective teachers and taught in the classrooms. A team of staff members judged the performance of the students. Gifts were given to teachers as a mark of respect.
Teachers of Manav Sehyog School organised a special assembly on the occasion. A special cricket match was held between teachers and students, which was won by the students.
The Lovely Professional University celebrated Teachers' Day and its Foundation Day on September 5. The staff members paid obeisance to the founder chairman of the institute Baldev Raj Mittal. A cultural programme was also organised on the occasion.
University toppers
Rashi Sharma and Perminder Kaur, both students of MSc-I (botany) of HMV College topped Guru Nanak Dev University by securing 484 and 477 marks out of 600, respectively.
Anu Bajaj of MA-I (economics) of the Kamla Nehru College for Women, Phagwara, bagged the first position in Guru Nanak Dev University by securing 360 marks out of 500 followed by Manvir Kaur who secured 351 marks.
Navneet Kaur of MSc-IT (IV semester) of the Apeejay College of Fine Arts, Jalandhar, stood first in Guru Nanak Dev University by securing 81.5 per cent marks.
Nidhi Bhuawnia of MA-II (dance) topped in the university by securing 684 marks out of 800 followed by Sufi Harjit Singh with 672 marks. Eva Sharma of MA-I (dance) got 352 marks out of 400.
Sapna Nayyar, Jyoti Bala and Satinder Kaur of Banarsi Dass Arya Girls College, Jalandhar cantonment, got the first, second and third positions in the diploma in mass communication and video production examination of Guru Nanak Dev University by securing 351, 350 and 347 out of 500 marks, respectively. Similarly, Kirandeep Kaur of the college stood second in the MA-I (dance) examination conducted by the university.
Talk on new career vistas
Lovely Professional University and National Council for Education and Research Training, organised a seminar on the "Role of career guidance and counselling" for making career choices. Principals and representatives of nearly 250 schools from across Punjab were invited. Prof Dalbir Singh Dhillon, chairman of Punjab School Education Board said, "Because of limited access to information regarding career choices available to the students, a large proportion of brilliant students land up in non-compatiable educational streams".
This leads to a severe dent in generating a high quality human resource, which affects the national progress and development substantially. Among others, Kishan Kumar, director general (schools), JS Khatra, DPI (schools) Punjab, and Dr DR Yadav, joint secretary CBSE Chandigarh, also attended the event.
Talent hunt
Students of the Kamla Nehru College for Women, Phagwara, organised a talent-hunt contest for the newcomers on September 6. The students participated in competitions like dance, music, drama and depicted their creative skills.
A talent search competition was also held at St. Soldier College, Basti Danishmandan, on Saturday in which students participated in geet, ghazal, debate, skit, fancy dress, group dance, etc. The first 60 students who secured first and runners-up positions were given mementos. DAV Institute of Engineering and Technology also organised a talent hunt show. The event aimed at providing a platform to unearth the hidden talents of new entrants.
Tree plantation
Students and teachers of KMV College, Jalandhar, in association with the city-based Rotary Club, planted as many as 100 saplings on the college premises.
Terracotta workshop
The fine arts department of the Apeejay College of Fine Arts organised a three-day long terracotta workshop which was attended by 200 students.
Cultural imperialism
Trinity College organised a cultural exchange programme. Vinayak of BCA (part-II) welcomed the guests, including staff and students of St Stephens College, Kerala, director of Trinity College Fr Simon and principal of the college sister Dr Stella.
Students of both the colleges performad various cultural activities such as prayer, songs, giddha and bhangra.
LPU's new session
The new academic session started at Lovely Professional University here today. The old students were present to welcome the freshers. As many as 4,000 new
students in various streams, including engineering, education and ayurveda, attended classes on the first day.
Lecture on Sufism
The music department of BD Arya Girls College organised a guest lecture on Sufism on September 4. Chief guest J.C. Joshi spoke at length on the pristine Sufi poets and saints.