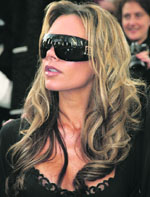 Victoria's 'Posh' style
Victoria Beckham showcased her first fashion collection at New York Fashion Week, which was based entirely upon her own personal style. The collection featured 10 styles based on Posh's style and but the influence of Roland Mouret, whose dresses she often wears, was visible.
Tale piece
MTV to go movie way
Popular music channel MTV is all set to make three films with the reigning stars of today - Shah Rukh Khan, Hrithik Roshan and Aamir Khan. All the three movies will be regular commercial productions to be made on a grand scale, a source at MTV told.
Plain speak
Debates to dramas, any exposure to oratory has got the city RJs and VJs shaping up into broadcasters, writes Ashima Sehajpal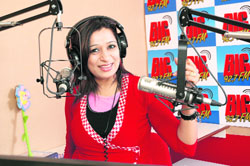 Meenakshi Bhojwani, a city's renowned Radio Jockey (RJ) often finds it amusing that it's for talking (though creative) that she gets all the bug bucks. "Finger on the lips, every five minutes my teachers used to say and I always had to give in to their unjustified demand," recalls Meenakshi.


Babble on: RJ Meenakshi can speak non-stop, thanks to her family members who love to speak their hearts out
No place for hobby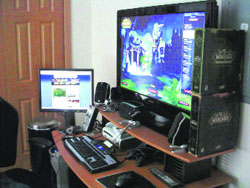 Gone are the days of lazing around and turning pages of a soiled book that you longed to read in the name of hobby. Finding no place in modern life, these time-consuming hobbies like reading book, trekking, listening to music and playing outdoors are out of trend. And confronting these all so favourite hobbies, is the latest fad of net browsing, orkutting and playing games on computer.
These days, the rooms of most youngsters have more of playstations and plasmas
Mission Dogri


Theatre activist Balwant Thakur is all for regional dramas
To invoke history and tradition, folk or classical, is one thing but to instill it into the mindset of the milieu, one has to make it attractive enough. That can be done only with innovations,"says Balwant Thakur, the theatre activist of international recognition.
Dost, dost na raha…
Be they celebrated tinsel town buddies Shahrukh and Salman or dosts closer home, long-standing friendships can sometimes snap in a blink. And the reasons could be many: women, wheels or wallets,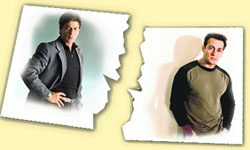 writes Jasmine Singh
They have done it again. Yet another long long friendship, to be precise18 years long dosti comes to an end in 18 minutes. Brat Salman Khan and Shahrukh Khan came to near blows at Katrina Kaif's birthday bash. Split wide open. Itney saal ki dosti ek pal main tut gayi, flashes one of the news channels. And the anchor got down to dissecting what went wrong, where, how and why. So, do we.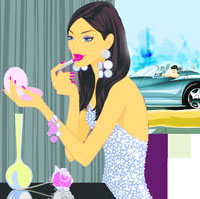 Trial & Mirror
Behind those hours of preening by women lies the patient wait of their menfolk
It's Saturday evening. You are ready and ardently flipping through channels hoping to see the love of your life come out. She does make an appearance, but only to return to her room, confused wheather to wear the blue and the red dress. A familiar scene? If you think the woman in your life takes ages to get ready, you're not alone. A survey by London-based beauty brand Skinlbliss reveals that an average woman spends an astonishing 136 days getting dressed, putting on make-up and doing their hair over her lifetime, enough time for an astronaut to fly to the moon and back 22 times! In comparison, men take just 45 days to make sure that they look good.

CheatingMates
A new book by American psychotherapist Gary Neuman has created uproar in Britain and America, as it blames wives for their cheating husbands. Statistics have suggested that nearly half of all American husbands have had affairs, to which 68 per cent never admit.

at lifestyletribune@gmail.com or Life Style, The Tribune, Sector 29-C, Chd
I am 38, just have returned to India after 12 years in the U.S. My husband and I were both computer scientists there and now we want to start our own software company. Everyone is pressurising us to have kids. People think I either have some physical problem or just too independent to want children. This has started to disturb me. We did not face such questions in the U.S. After all, it is my decision. But now, I am beginning to get sucked in. Should I have a kid to keep the world quiet? This will mess up our future plans. Please advise.