Cancellation, diversion of trains
Passengers suffer as rly makes no alternative arrangements
Jalandhar, September 11
Passengers are suffering a lot as the railway authorities have made no alternative arrangements for them against temporary cancellation, diversion and change in originating and destination stations of several trains from September 5 to 16.
PSEB back to power cut business
Jalandhar, September 11
The joy of the people on receiving uninterrupted power supply proved to be shortlived as the Punjab State Electricity Board (PSEB) resorted to unscheduled power cuts again.
PSEB SDO caught taking bribe
Phagwara, September 11
The Vigilance Bureau nabbed PSEB SDO Manohar Lal on the charge of taking a bribe of Rs 4,000 from Sukhwinder Pal Singh of Shekupur Nasirbad.
Young World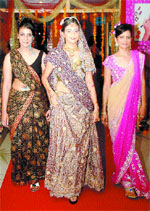 Talent hunt at Govt Arts and Sports College
Jalandhar, September 11
The Government Arts and Sports College, Jalandhar, organised a talent hunt contest on September 4 and 5. On the first day, the students participated in paper reading, poem recitation and fancy dress competitions. The second day saw the students presenting cultural programme, including solo dance, group dance, giddha and bhangra.





Participants during a beauty contest at a salon organised by the JCI in Jalandhar on Thursday. Tribune photo: Pawan Sharma
Crime File
65-yr-old man crushed to death
Jalandhar, September 11
A 65-year-old lunatic man was crushed to death under a multi-axle vehicle on the Kapurthala bypass in Nakodar this morning.
Biz Buzz
PKF announces 10 pc dividend
Jalandhar, September 11
Punjab and Kashmir Finance Limited has declared 10 per cent dividend to its shareholders, as the groupís turnover has crossed Rs 178 crore in the previous fiscal year, with a profit of more than Rs 4 crore.
District-level sports tourney concludes
Jalandhar, September 11
The district-level rural tournament for boys and girls (u-16) and panchayat tournament of Jalandhar concluded at Government Arts and Sports College here on Wednesday.
CACP report: Kisan union criticises govt
Jalandhar, September 11
The Kirti Kisan Union, Punjab, has criticised the UPA government and the Punjab government for not considering the recommendations of the Commission for Agricultural Costs and Prices (CACP) report regarding paddy prices.