Wings to Dreams
A career in aviation management offers a plethora of unique management opportunities that offer variety, advancement potential and job security. Team J&C helps you take off!
The aviation industry has been witnessing unprecedented growth in recent times globally and particularly in India. As in other sectors of trade and business, a scientific approach to the management of various aspects of this industry is extremely important in order to effectively handle this rapidly evolving aviation industry, and also deal with the challenges of environment and terrorism.

n SKILLset

Art of conversation
We all possess the gift of speech, but its use makes all the difference, writes I.M. Soni
For good and ill, your speech is your advertisement. Every time you open your mouth, you allow others a peep into your mind. It opens your mental vistas and gives your faculties a splendid display. At the same time, it also shows your hidden weaknesses. That is why it is said that silence is the better part of speaking.


Careercature
Sandeep Joshi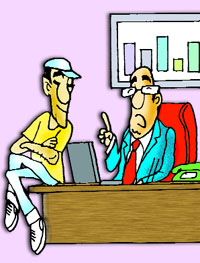 You are hired but youíll call me uncle only after office hours!

Catching them young
In the wake of increasing wage pressures and mounting training bills faced by the IT-BPO industry, Nasscom has come up with a vocational training model exclusively for Indian universities.
Health wise
Idle mind may be good...
An idle mind may not necessarily be the devilís workshop. To the contrary, too much stress on action could produce unforeseen outcomes, says a new study.

n ...brainy work causes obesity!
Happy Days here again!
KPMG says delivery demand for Indian BPOs to stay high
Contrary to doomsday predictions for the BPO industry, international accounting and consulting firm KPMG believes that not only would global demand for BPO delivery remain strong in the long-term, but it would also leave substantial headroom for further growth.

n Philippines jumps in
n Indiaís role in delivery chain irreversible, says Nasscom chief
Bits & bytes
Reason to smile
Students have reason to rejoice. Books by foreign authors, which were out of the reach of students of the sub-continent due to price or availability, are now accessible to them at cheaper rates, something that can be described as a virtual manna from heaven.

n For a glittering future
Career Hotline


Enroll with IGNOU
Q. I have done BA (history) and have been teaching in a nursery school. Now I am thinking of doing MA (education). Is it equal to M.Ed? Can it also be done privately? From where can I do it?

n Go on, crack the Civils