'Police shielding accident accused'
Amritsar, September 19
The Punjab Medical Representative Association today alleged that the police was shielding the accused of a road mishap which took the life of Charanjot Singh, a medical representative and general secretary of the association, on September 8. Charanjot succumbed to his injuries on September 15 at a private hospital.
Soon: Durgiana temple to have better arrangements for stay
Amritsar, September 19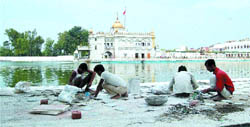 In order to facilitate the pilgrims visiting the Durgiana temple from the far off places in the country and abroad, the Durgiana Management Committee (DMC) has decided to construct a new serai at its land located near Gol Bagh in the city.
Renovation work being carried out at the historic Durgiana Temple in Amritsar. Photo: Vishal Kumar
Drugs In Devotional Stuff
Take action, AISSF toTakht
Amritsar, September 19 The All-India Sikh Students Federation (AISSF) have taken a serious view of the Akal Takht's silence over the violation of Sikh maryada by a private publisher, Chattar Singh Jiwan Singh.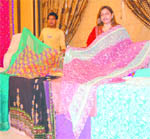 Haute 'n' hip: Pak bridalwear makes waves
Amritsar, September 19
Traditionally, it has always been the Indian fashion designers who were a rage in Pakistan but now the trend has shifted as designers from across the border have the Indian brides wearing their ethnic bridal ensemble.shows Hina Anjum, a big name in Pakistan, was one of the designers who showcased her work in India.
Pakistan designer Hina Anjum shows her fabulous collection. Photo: Vishal Kumar
After 115 years, PBN School's glory still shines
Amritsar, September 19
Pt Baij Nath, a great scholar of Persian and Sanskrit, founded PBN School in 1893 near the historic Hall Gate, which has emerged as an epitome of learning in the past 115 years.
Campus Buzz
Religion should focus on generating goodwill: Experts
Amritsar, September 19
All religions should come forward to devise a common minimum programme to rid society of hatred and social menaces.
School Pulse
424 Spring Dale students get prizes
Amritsar, September 19
As many as 424 students were honoured during a prize distribution function organised at Spring Dale Senior School here on September 18. Many of these students have proved their merit and mettle at international fora. Bikram Singh Majithia, minister for information and public relations was the chief guest, while Rajmohinder Singh Majithia, MP Rajya Sabha, was the guest of honour.
GND varsity students felicitate Seechewal
Amritsar, September 19
Noted ecologist and crusader for the cause of land, water and atmosphere Baba Balbir Singh Seechewal was felicitated by conferring upon him the Bhai Nand Lal award. The award has been constituted by Guru Nanak Dev University (GNDU) students to honour personalities who have made remarkable contributions in the fields of literature, music, religion, ecology, sports, art, etc.
Biz Buz
Lambency to set up 300 spas
Amritsar, September 19
More than 300 spas would be established throughout the country by Lambency group, said Sudhir Sharma, vice-president sales and marketing of Lambency to the media here on September 18.
Health Matter
CME on role of medical education today
Amritsar, September 19
The Indian Association of Preventive and Social Medicine (Punjab), in collaboration with the Social Medicine Association, would organise a CME on "Medical education in the era of globalisation" at Guru Nanak Dev Hospital here on September 21.
3-day zonal animal fest in November
Amritsar, September 19
The department of animal husbandry would organise a three-day zonal animal festival from November 20. This was announced by deputy director Dr Pawan Kumar Gandhi after visiting dairy complexes in Mahal and Ghanupur villages in the district.