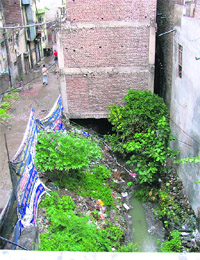 No full stops
Ludhiana's drains & nullahs are no more, courtesy innovative Ludhiana residents and greedy land sharks
IN Ludhiana where every inch of land is sold at skyrocketing prices, residents have not even spared nullahs and seasonal drains. These have been encroached upon and filled up to make way for shops, houses, religious places… you name it! Many seasonal drains that used to pass through the city now exist only in records of the drainage department and have assumed folklore status – only old timers remember how they would carry rainwater during monsoons. Nullahs that carried sewage and rainwater in the old city too have disappeared.
The nullah at Bhadaur House has been covered over the years.
Job hub
SEVERAL small, medium and large industrial units are located in Dharuhera area with an approximate investment of Rs 2,000 crore and employ over 20,000 persons. Big names include Hero Honda, Sony, OCCL, G.K. Invel Transmission, Pasupati Spinning and Weaving Mills, East India Syntex, Inertia India, Delton Cable, Uni Products, Rico Auto and Omax Auto. With the proposed SEZs, things are expected to get even better.
Destination Dharuhera
This town is the next big thing after Noida and Gurgaon. RAJU WILLIAM tells us why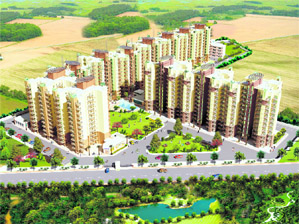 WITH real estate growth in Noida and Gurgaon having reached its pinnacle, now Dharuhera is hot property. A developing town, it falls under Rewari district and is ahead of Industrial Model Township (IMT) Manesar on the Delhi-Jaipur expressway. This is in line with the major shift in thinking of developers who have started seeing long-term growth prospects in moving beyond the NCR with its limited supply of properties.
Upcoming housing complex in Dharuhera.
Customer is king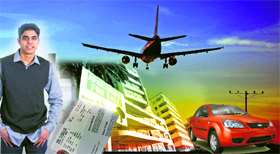 Battling a slump, real estate firms offer freebies & incentives to prospective buyers ahead of the festive season
PLANNING to buy a house? First the good news. Just ahead of the festive season, most real estate and housing giants are offering incentives, freebies and discounts to prospective buyers. The bad news is that the skewed demand and supply equilibrium in the real estate sector has not significantly affected prices.
Tax tips
Home Truths
Q. I have a flat in Chandigarh I acquired in 1998. Now, I have been allotted a flat in Faridabad but I have no money for it. So, I have to sell the flat in Chandigarh to pay for the new flat. My problem is that for the Faridabad flat I will be paying based on the progress of construction of the block of flats i.e. the payment is progressive linked to construction. So, where do I park my money after selling my flat in Chandigarh so that I can make periodic payments for the flat in Faridabad and still save capital gains tax? Construction in Faridabad has just started and will take 2-3 years to get completed.
GROUND REALTY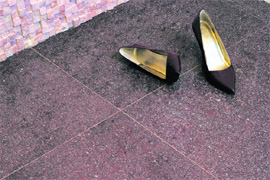 Rock On!
Correct grinding & polishing can make or mar your floor. A few vital clues…
GRANITE and kota are two stones that have become immensely popular with house builders. While granite's USP lies in its hardness, durability and visual appeal, kota is affordable and ideal for paved areas in front and back courtyards. Both stones respond well to polish, but there are a few important guides to be kept in mind while buying and using these materials. Read on…
REALTY BYTES
BPTP bags Sap Ace Award
BPTP Limited has been awarded SAP ACE (Award for Customer Excellence) under the category 'Best Engineering, Construction and Operations Sector Implementation - Midsize Enterprises' from SAP India. Winners were chosen after an extensive multi-stage selection process powered by SAP India.
Anybody looking?
Residential areas are fast turning into commercial centres in Dehra Dun, reports UMESH DEWAN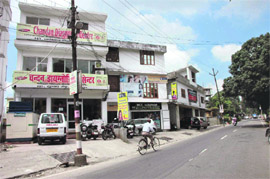 DEHRA Dun, once synonymous with peace and tranquility, is fast turning into a chaotic town due to rapid urbanisation leading to a host of problems. In blatant violation of land use norms, residential areas in city are fast converting into commercial centres and the Mussoorie Dehradun Development Authority (MDDA) appears to have decided to look the other way.

Commercial establishments on Subhash Road, a residential locality. Photo: Vinod Pundir