Mobile schools boost literacy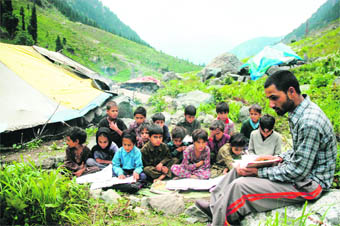 Nomads may appear to be living an idyllic and carefree life. Far from that, they suffer serious deprivations. The absence of education for their children is a major problem. The Jammu and Kashmir Government has come up with the novel scheme of mobile schools, reports Ehsan Fazili from Srinagar
These make-shift centres of learning have broken new ground in taking education to nomadic children in Jammu and Kashmir. The results are evident in the state's literacy rates, which have increased from 52 per cent in 2001 to 68 per cent in 2007. Photos: Amin War

Brand rush to Mumbai
With foreign companies being allowed to set up exclusive retail outlets, top-end brands like Jimmy Choo, Savile Row and Chanel are making a beeline for India, reports Shiv Kumar
The fashionistas of Mumbai are facing a problem of plenty. The past six months have seen some of the biggest brand names pitch their tents in this city. Calvin Klein and Gucci were among the first to announce its entry with glittering parties that saw the jetset lapse into ecstasy. The rest quietly followed — FCUK, Esprit, Jimmy Choo, Chanel, Savile Row.
Meditate to focus mind
Researchers at Emory University School of Medicine have found that experienced Zen meditators can clear their minds of distractions more quickly than novices. Dr Giuseppe Pagnoni, assistant professor of psychiatry and behavioural sciences, has revealed that the study involved the use of functional magnetic resonance imaging (FMRI) to examine changes in blood flow to the brain, as the subjects meditating were interrupted by stimuli designed to mimic the appearance of spontaneous thoughts.