Little RAMPAGE
Ms Beautiful Hair. Ms Congeniality. If you thought these titles belonged to our Ms India pageants, itís time to get clued in. These are prizes up for grabs at beauty contests on kidsí birthdays
All of 10, Alisha Chauhan is dressed up in gown, flown in from Australia. And she's got her hair straightened too. The occasion - it's her birthday party. But this is not the only reason. She has to take part in the beauty pageant, which is a special item at her party and all her friends; nearly 40 will be vying for titles like Miss Beautiful Smile, Miss Best Catwalk. This means she has to look her best.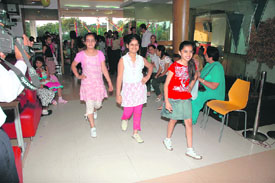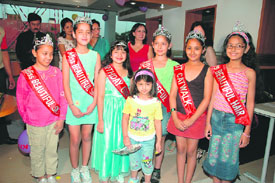 Budding beauties: Girls parade on a makeshift ramp during a birthday party, and (right) the finalists get a tiara and a sash
Tiny tots, tailors and trousseaus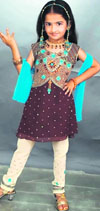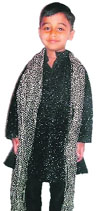 Tiny tots can no longer be treated as the footnote when planning wardrobes for any wedding, writes Manpriya Khurana. They're neither the last nor the least
Wedding season? Oh my gawd! So much to do! Wedding trousseaus to be bought, detailing to be done, outfits to be selected for the bride's or the groom's father, mother, sister, relatives. Huh! This is just the introduction of the chaos, excitement and nervousness felt by those who are to get married or attend the function. There are umpteen queries and doubts in the mind of everyone. Pause. Where does that leave kids? After all, they are as much part of the function as any grown-up.


Every dog has his day

Actress Alyssa Milano smiles next to chihuahuas Rusco (L) and Angel, playing Papi and Chloe on screen, respectively, at a party to mark the world premiere of Beverly Hills Chihuahua in Hollywood, California, on Thursday. Jamie Lee Curtis holding Angel. Photos: Mario Anzuoni, Reuters
Mad Men set for Emmy history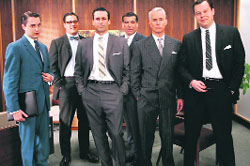 The chain-smoking, booze-swilling, skirt-chasing advertising executives from MadMen are expected to make Emmy history when U.S. television's highest honors are handed out on Sunday. The AMC network's critically acclaimed period piece, set in the social cross-currents of New York's Madison Avenue in the early 1960s, is the overwhelming favorite to win this year's Emmy prize as best drama series.

Mad Men at work
Pink parade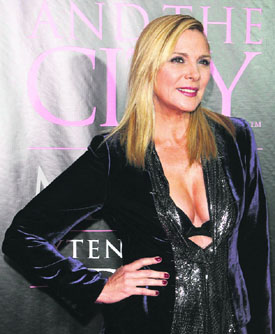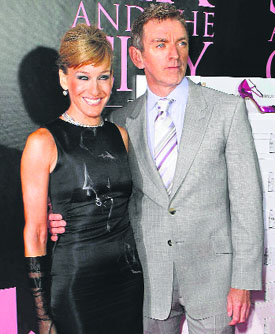 Actor Kim Cattrall lets her hair down. Actor Sarah Jessica Parker arrives with Michael Patrick King for the DVD launch event for "Sex and the City: The Movie" in New York on Thursday. Photo: Lucas Jackson/Reuters
Keira's Last Night
English actor Keira Knightley has signed on to star in Last Night. The film, which also stars Eva Mendes, Sam Worthington and Guillaume Canet, is the feature directing debut of Massy Tadjedin, who wrote the script, reports Variety. The story of the film centers around a married couple, apart for a night while the husband takes a business trip with a colleague to whom he's attracted. While he's resisting temptation, his wife encounters her past love. Keira has also revealed that she has yet not been allotted the lead role for the remake of My Fair Lady, despite reports suggesting otherwise. She is being seen as the most likely candidate to take Audrey Hepburn's iconic role in the update of the 1964 musical, based on George Bernard Shaw's comedy of manners Pygmalion.
When it rained stars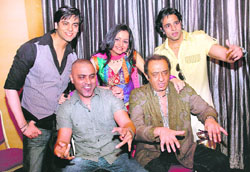 It was a downpour. Downpour of a different sort, for it rained TV stars. Friday that saw a medley of television actors come to the city for the promotion of daily comedy soap, Jugni Chali Jalandhar on Sab. We chat up yesteryear villain Ranjit, Indi pop singer Baba Sehgal, Rakhi Sawant's love interest Abhishek Avasthi and the new kids on the block Karan Godwan and Muskan Mihani.


LAUGHTER CHALLENGE: (L-R) Karan Godwan, Baba Sehgal, Muskan Mehani, Ranjit and Abhishek Avasthi


Dadaís Day In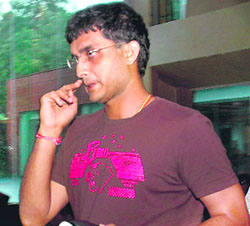 Rain kept Saurav Ganguly indoors on Friday. He was in town for the J.P. Atrey Memorial Cricket Tournament. Lifestyle photo: Manoj Mahajan
Beauty studio
Cuticle care
Pammy Kaul
The winter is around the corner, so itís the time to take care of your cuticles. Dry winter weather brings an open invitation for raggedy cuticles, which leaves your nails looking rough and unkempt.
Hop, jump...
Hindware launches Poncho for a toddlerís washroom. † Crafted especially for the young, this Poncho suit comes with a water closet and washbasin. Low in height it makes it easier for every little kid to use Poncho independently. In vibrant colours, and imaginative shapes the Poncho range comes in four attractive colours of blush red, sunshine yellow, electric blue and spring green. In designs like frog shaped basin with built-in pedestal and eye design bowl space to keep soap dishes it has chrome plated insert for overflow hole.