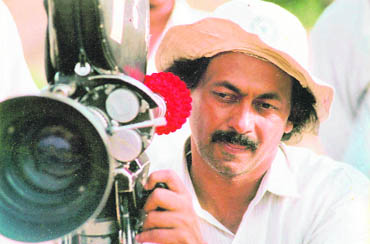 Girish Kasaravalli has won the Golden Lotus Award, Indiaís highest film award, four times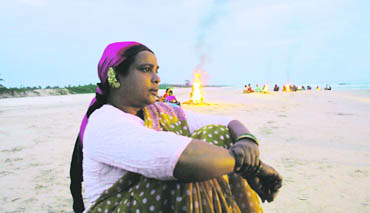 Umashree as Gulabi in the film. She won the Best Actress Award for her role as an expert midwife leading a lonely life in a village of fishermen

GIRISH Kasaravalli, the diminutive, now grey-haired and low profile filmmaker from Karnataka who has grown into an international name, keeps evolving and growing in his own, reclusive way. His Gulabi Talkies, premiered in the Indian competition section of the 10th Osianís-Cinefan Festival of Asian and Arab Cinema, won the Best Film prize. Umashree, the leading actor who played Gulabi in the film, got the Best Actress award as well. Kasaravalli is one of the best pillars ó and also the most neglected ó among Indian filmmakers. The indifference to his work in parts other than his home state does not seem to bother him because he continues to express himself through his films. He has a masterful command over the medium of his choice. From pharmacology to cinema has been a long journey indeed. But Kasaravalli has made it meaningful and significant for all lovers of good cinema across the country. He has won the Swarna Kamal or the Golden Lotus award four times. He talks about his filmmaking in general and Gulabi Talkies in particular, in an interview.
Let us hear about your journey through cinema
As a filmmaker, my journey, from my first film Ghatashraddha to my latest, Gulabi Talkies, has been a continuum. I believe that a film should reflect some facet of life. Take Ghatashraddha. It is based on a U. R. Ananthamurthy short story I read when I was in high school. The story left a deep impression on me. When I made Ghatashraddha in the 1970s, I was already a product of the Pune Film Institute. When I was in my final year (1975), I had assisted B.V. Karanth with the making of Chomandudi. Ghatashraddha was an attempt to look at life from the point of view of a person whose struggles were largely because she, a widow, happened to belong to a lower caste in a highly caste-conscious society. Incidentally, both Ananthamurthy and I are from Thirthahalli. I am from Kesalur, a village close to Thirthahalli.
Your actors, even from mainstream Kannada cinema, are very natural, stripped off their starry glamour and spontaneous in your films. How do you explain this naturalness?
Actresses in mainstream Kannada films are excellent artistes. They do not worry about looking good on screen. They do anything to give the best shot. They place full faith in the director and are not worried about fans. If Soundarya looks little glamorous in Dweepa, it is not her fault. For the first time, I worked with make up artists and costume designers from the mainstream Telugu cinema.
Umashree, the actress who played the title role, is a comedienne. What made you pick her up for a character that is against her grain?
Umashree has an interesting history. She entered films as a comedienne but later switched over to character roles. Through the 1980s and 1990s, she was seen in every second film in Kannada. She entered politics in the 1990s and was Member of Legislative Council for one term. She began with amateur theatre. I had seen her on the stage. She was brilliant in essaying any role she was given. Her portrayal in Krishna Murthyís adaptation of Odalala (The Fire Within) by Dalit writer Devanuru Mahadeva was incredible. She played a 70-year-old woman looking for her lost hen, the hen being a symbol of hope.
Gulabi Talkies is based on an original story. Tell us something more about it.
I had read this story penned by Vaidehi, a major woman writer in Kannada, a long time ago. It remained embedded in my mind. Then, a few years ago, I had to prepare for a lecture on the politics of imaging by an organisation in a remote Karnataka village. As I began preparing for this lecture, I happened to watch the image of Saddam Hussain on CNN when the US forces had captured him. I somehow felt that the image was doctored.
Questions cropped up. Are we now willing targets of the media who, under the veil of delivering news, are actually forcing their opinions on us? Would it be right to conclude that the media today was in reality, either manufacturing opinion or acting as an agency instead of delivering news? Were we looking at something immediate through glasses tinted by so-called information technology when we should actually be looking at things from an understanding born out of experience? Vaidehiís story came back to me but I reworked on it. I changed the setting to a fishing village and converted Gulabi to a Muslim woman though in the original story she is Christian. I introduced the characters of Musa and a kid. As we reworked and redrafted the story, issues like loneliness, the craving to belong, desire and disappointment, hopes and aspirations, global, national and local harmony wove themselves into the script.
The entire film, including the indoor shots, seems to have been shot on location
All my films are shot on real location. Gulabi Talkies is no exception. I located a spot that suited my needs. I asked my art director, Ba Su Ma Kodagu, who is a graphic designer and theatre director to construct a hut with removable thatched walls. The story demanded a rock by the side and a series of boats lined up along the shore. My unit members were surprised at the way the spot matched the descriptions in the script so precisely. The locals in Karnataka are always very cooperative.
Do awards affect you one way or another at this stage of your career?
Yes and No. Yes, because a committee consisting of filmmakers and critics gives the awards. They do not go just by the storyline. They go into all aspects of the film to bestow the award. No, because the audience is as important to me as the jury members. I will be happy the day my films can generate as much enthusiasm with audience as they did with the jury.