M A I N N E W S
Anti-Defection Law

'Confer powers on outside authority'
Geetanjali Gayatri
Tribune News Service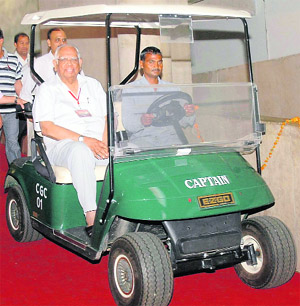 Lok Sabha Speaker Somnath Chatterjee leaves the Haryana Assembly in a golf cart after the conclusion of the 73rd conference of Presiding Officers of Legislative Bodies in India in Chandigarh on Tuesday. Tribune photo: Manoj Mahajan

Chandigarh, September 23
Agonised by judicial scrutiny of decisions taken by presiding officers, Lok Sabha Speaker Somnath Chatterjee today advocated conferment of powers on matters of defection to an outside authority.
Addressing presiding officers (PO) of legislative bodies in India during a symposium on "Anti-Defection Law - Need For Review", Chatterjee opined that the jurisdiction and authority to deal with defection as provided in the Tenth Schedule need not be exercised by the presiding officers.
"The power should be conferred on an authority like a special Tribunal comprising well-versed people in law or on an authority like the Election Commission," he stated.
While holding that the decisions of PO should not be subjected to judicial scrutiny, he added that it affects the status of the PO, resulting in avoidable tension between the two constitutional authorities.
Other views
Goa Speaker, Pratapsingh Raoji Rane, said unsteady governments in his state had become a "headache" due to the growing menace of defection. He suggested that any member resigning from the house should be barred entry for at least five years. If a member votes against the whip, his vote should not be counted unless two-thirds of the members vote against the whip.
Bihar Speaker, Uday Narain Chaudhary, said Speakers sometimes become "spineless" and suggested that a period of three months be fixed to decide defection issues.
Haryana MLA Karan Dalal suggested that the Election Commission be given the responsibility of dealing with defection.
MLA Harsh Kumar said the Election Commission should take a signed resignation from the elected representatives at the time of filing nominations, which should be accepted from the day the candidate defects.
Chatterjee said the "spectacle of aya rams and gaya rams" continues to be the bane of the political system, where defections are motivated by power and opportunism. He emphasised on concerted efforts for a total ban on political defections or at least ensuring that defections are not rewarded.
Terming defections as "betrayal" of peoples' trust, Haryana Chief Minister Bhupinder Singh Hooda said elected representatives as commodities for barter was an unimaginable concept.
Critical of blanket exemption to splits and mergers from the Anti-Defection Law, he said trading of independents for support in tightly balanced legislatures was a tendency that needed to be checked. He said members defying the party whip to express views on issues of national importance, especially when the party's majority is not under threat, should not be treated as defection since it curtails the right of speech. Hooda highlighted the discrimination in law, which provides for disqualification of an independent member who joins any political party after his election while a nominated member can join a party within six months of his nomination.
As many as 24 presiding officers and MLAs from Haryana participated in the discussion, also attended by Haryana MPs Atma Singh Gill and Jai Prakash.