Much obliged, sir!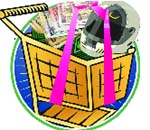 Our traffic cops have decided to get into Gandhigiri mode. Violators will be gifted traffic trivia, all in the festival spirit. We decided to get a bit cheeky and quiz our residents on what they'd like to give the policemen as a return gift. Here's what the gift hamper would contain…
Sanju Baba managed to do it in Lage Raho Munnabhai with a smile, red rose and jaadu ki jhapphi. And now our very own traffic police are trying to do the same. So, the next time you violate a rule, you would be showered with gifts instead of being handed out a challan slip. So far so good. But what if the city folks were to do the same—gift the cops in return to send across their message. What would be their return gift to our dear traffic watchers. This festive season skip conventional gifts and win wows from family and friends by handing out vouchers for special treats
Packed in a huge box, wrapped in a shimmering paper, unwrapping a gift always makes us wish, 'hope it is something I want'. And when it turns out to be the same old Ferrero Rochers box, a Cadbury chocolate ka daba or a decoration piece it passes on to others as any other gift item. But as this festive season draws near, and you wonder what to gift, we help you see beyond the common and traditional gift items.
Taare… & Jodhaa Akbar make it to 'region's Oscars'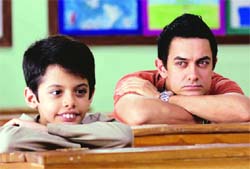 Taare Zameen Par and Jodhaa Akbar are among 11 Indian films as the entries for the Asia Pacific Screen Awards (APSA)-08, the highest accolade for movies in the region. The award ceremony will take place at the popular tourist destination of Gold Coast in Queensland this November. The awards have received entries from 43 countries and the competition will be among 180 films showcasing the talent and cinematic diversity of a region covering one-third of the earth's surface and 60 percent of its population.
Koffee Break
Who doesn't like sexy tag?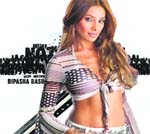 Glamorous Bipasha Basu, who sizzled in Race and Bachna Ae Haseeno, says confidence, poise and intelligence are a must to look sexy. "For me, being sexy is an amalgamation of many factors - definitely a good physique and a perfect-10 for health. A good face helps but confidence, poise and intelligence are musts," Bipasha. The actress adds she enjoys her "sexy" image. "I'm sure any man or woman would be flattered by being known as the sexiest. I don't see why I've to justify myself for being happy about being called sexy.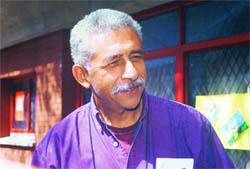 Naseer on Maharathi's seat
After Jagmohan Mundhra's Shoot On Sight, thespian Naseeruddin Shah has once again replaced Bollywood superstar Amitabh Bachchan in the comic thriller Maharathi, a film inspired by a hit Gujarati play. "Amitabh opted out of the film as the role had shades of grey. He explained his point of view in detail to me and I agreed with him," says Paresh Rawal, who has directed the play.
From Jatland to amchi Mumbai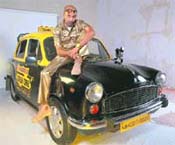 THE popular lathmaar Haryanvi jat Udham Singh of Channel V, Manish Makhija, is back on small screen. This time as a taxi driver called Munna. He has been roped by Bindass for their new show Cash Cab. Manish will be seen driving a cash cab and will judge the general knowledge of passengers and the winner takes home Rs 20,000 in cash. As anchor of the show Manish is on the verge of extending his small screen image of typical jat character to the big screen.
Dressing up divinity
With dexterity in the hands and creativity in their thoughts, they craft the images. Idols of Goddess Durga, for the coming Navratras and Durga Puja. Creativity unleashed, is what you see at Kali Bari-47, with a family working 24/7 for the coming festive season.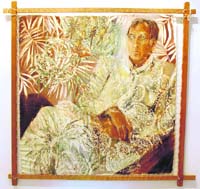 French connection
When one hears of foreign artists doing work on India, one would naturally expect to see poverty-stricken, wrinkled faces in the frames. But Marion Colomer is different. This 25-year-old French artist who is now almost an integral part of Indian art scene likes to capture India in different hues, through the faces of common men as well as celebrities and she makes them come across as mysterious yet happy people.
Peaceful palette
A majority of us read about violence shrug it off and move on with life. But not Bikranjit Singh, Deepak Gupta and Prem Rana. The trio is director, management consultant and manager, respectively, of Maya Palace-35. They wanted to spread the message of peace, happiness and non-violence to the trouble-torn world and so decided to hold an exhibition of photographs and quotes on the theme. The venue is of course the hotel lobby, so that his customers go back with enough food for thought as well after a hearty meal.
Serving with love


FOR someone who was perfect with her smash shots and nets, lifting musical notes was a game of a different kind. But for Deepika Dheer, music came naturally, unlike the game of badminton. " I grew up feeding on the songs of Lataji and Suraiya. Later, I developed my hobby into my passion and trained myself in Punjabi folk under the likes of Shri Narender Biba ji and Shri Balbir Singh Kalsi," tells Deepika, who was the captain of Panjab University badminton team and played at national level. But resource crunch and personal tragedies made her say goodbye to her sporting career. But like it's said, everything happens for a good.
Breathe life
The Art of Living Foundation, one of the largest volunteer-based organisations spanning over 140 countries, has started a six-day course in yoga in the Tricity. A basic pranayaam and seven-chakra meditation course is meant for the beginners and is being conducted by Kashi, known as the King of Yoga in the Art of living circles.
I tone
He Khan do it
Aamir Khan'sTaare Zameen Par has been nominated for the Oscars. It's Aamir's second shot, his home production Lagaan also contested for the awards in 2002. Does this make Aamir, who usually shuns awards and award ceremonies, the 'Real Khan' of Bollywood?