Mall of Fame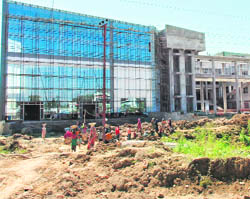 Multiplexes, big brands, a food court & lots more. The Doon Valley readies for its first mall: 1.25 lakh sft of luxury
THE landscape of the once serene Doon valley is in for a major change. In the next three months, its first shopping mall with multiplexes would be ready for the people. Work on the first mall of Uttarakhand has been going on at a feverish pace.


A shopping mall with three multiplexes coming up fast near the Dehra Dun ISBT. ó Photo by Vinod Pundir

TREND MILL
Visual extravaganza
Home theatres are passe, writes SANJEEV SINGH BARIANA. Mini theatres are the latest fad in homes & boardrooms. The price: Rs 15 lakh upwards!
NO more skipping dinner or speed racing to the movie hall. No more battling your way through to the ticket counter, no parking hassles and definitely no sad face if the counter says House Full! Itís not a home theatre we are talking about, it is an actual theatre, a little small in size, but real.


Built to suit
Uttarakhand industry selected for World Architecture Festival Awards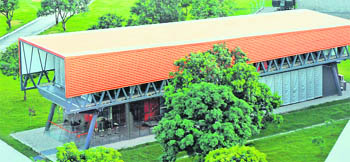 IMAGINE going through the tedium of constructing a building at a particular site, requiring years of hard work, cement, brick and loads of cleaning up. But how about a structure that can come up overnight, is eco-friendly, provides a solution to growing space needs and, above all, saves one the precious time that is money in todayís world?
Tax tips
If there is gain, there is tax
Q. One of my friends got a six marla plot in HUDA through lottery draw in 1995. He was not very financially sound and so he gave the plot to me through a power of attorney empowering me to pay dues, installments, sell or gift in any manner. On getting the power of attorney, I sent a copy of GPA to HUDA office and they accepted it. I continued to pay all installments but later on came to know that GPA is valid only till the executor of GPA is alive. Therefore, I sold this plot to my wife for a premium of Rs 16 lakh plus the arrears till October 2006 paid by me (total sale price of plot Rs.20 Lacks). Please advise on:
GREEN HOUSE
Homing in on EXOTICA
You donít need to spend a fortune on an Anthurium or a Lilium stalk. Grow these in your very garden. All you have to do is follow what Satish Narula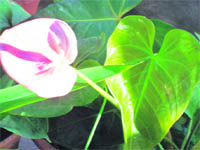 has to say and you canít go wrong!
GONE are the days when one used to visit an ill person with fruits. With changing times and lifestyles, fruits have made way for flower bouquets and bunches. Even patients feel flowers bring more cheer! While buying flowers, many of us have often wondered about their names and the journey they undertake to reach the florist shop near you. The normal thought that comes to mind is ó these are exotic flowers coming from some far away land.
REALTY BYTES
Retire in style
CHD Developers has announced plans to build four exclusive townships across north India named the Active Senior Lifestyle Township. These would offer senior citizens villas and apartments in one, two and three bedroom options. The first is slated to come up in Karnal over 100 acres, where the company intends to build 2,000 villas. It has already acquired land and will start construction by end October. The project is to be completed by 2011.