Scarred by blasts
Kanwalpreet
187 Lives—A Remembrance
by The Indian Express Team.
HarperCollins. Pages 229. Rs 395.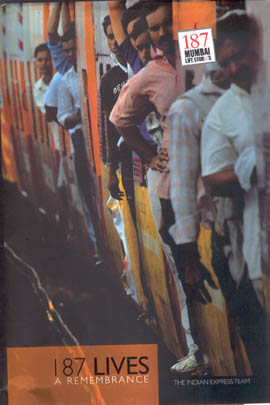 Terrorists aim to shake the foundation of countries and their governments, but unfortunately grievously injure innocent people. The latter are caught unawares while going about their business of living. The Indian Express Team, through this book, has paid a tribute to those who became victims of the train bomb blasts that shook Mumbai on July 11, 2006. In fact, it is also a salute to the resilient spirit of the families who lost their near and dear ones in those blasts.
Mumbai's Western Railway line is the lifeline of the metro city, for it not only links the metropolis to the motherland but also ferries six million citizens daily. This was disrupted in such a planned way that besides losing lives, the city was crippled for hours. It goes to the credit of the residents of Mumbai that after the 13 bomb blasts in 1993, they rose once again in 2006 as one to meet the challenge. Differences of religion and caste melted as dazed but determined citizens descended to help each other while the government machinery tried to restore normalcy.
Though Indian Express had carried these poignant stories in phases, a collection was a must to serve a reminder of the grim past. The book is a memorial to ordinary people who had struggled in their lives, rejoiced in the present and planned for the future. Many among the dead were those who had come from other parts of the country and had made Mumbai their home, while others had seen their city grow to its present splendour.
Neelu lost her only son, Chetan, to the bomb blasts. She lived with her son in Delhi and Chetan had gone to Mumbai to secure a happy life, financially, for all of them. For people like Neelu, Chetan's death was another tragedy in a chain of events. She had lost her eldest daughter and husband in the recent past. She says, "He (Chetan) lived to keep me happy.' She does not know where live would further lead. Ankit lost a loving elder brother, Himanshu, who doted on him. Himanshu was only 25 years of age when the bomb blasts claimed his life. He left behind his wife Dhwani who was planning to celebrate their first marriage anniversary on July 15. Today, memories are all Dhwani has.
There are cases like Parag Sawant and Amit Singh who sustained injuries on their head and are in semi-comatose since then. Their families survive on hope while consulting one doctor after the other. The bomb blasts affected thousands of families whose lives have never been normal again. Despite such recorded tragic stories and the media doing its bit by highlighting pain of ordinary people, terrorists strike again. Riots still take place in the country over petty religious matters and precious lives are again lost. When will we learn? But the efforts should continue to embalm wounded hearts. This book, perhaps, is a step in that direction.