SHORT TAKES
Back to Omen
Randeep Wadehra
Karan Quma and the Meluha Tree
by Mathew Panamkat. Deepshikha Books & Info Services.
Pages: viii+336. Rs 299.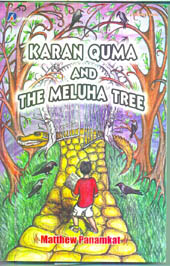 Despite the existence of rich oral tradition, literature for children in India has yet to mature into a vibrant genre — more so in English. So, although Panamkat is an award- winning sci-fi author for kids, one begins reading this novel with a bit of skepticism, only to be pleasantly surprised.
Greywals are a childless couple living in New Delhi's up-market Felicity Grove colony. Their prayers for a child are answered in distant cyclone-hit Orissa where a woman gives birth to twins atop a tree — just a foot above swirling floodwaters. Ignoring a Chennai-based astrologer's warning regarding the birth of Evil, Greywals rush to Bhubaneswar and adopt one of the twins. Thence starts a series of odd, mysterious and scary events. During their return journey a stranger tries to abduct the infant. Frequent visits to their residence by flights of cacophonous crows force Greywals to shift in disgrace to the disreputable Mistletoe Maze locality. They name their child "Kogon". Kogon has a guardian who is evil incarnate. If the crow motif and the evil guardian remind you a bit of the movie Omen and its sequel Damien Omen II, banish the thought, for Kogon has a rival in Karan — an urchin with magical powers — a servant in the Greywal household. Circumstances facilitate the admission of the two into the Rod & Bag Public School, where their rivalry becomes fierce with each passing day, eventually culminating into a race for the Meluha tree that holds the key to mankind's safety. You'll enjoy the lampooning of Delhi's public school system, along with spoonerisms, action and suspense.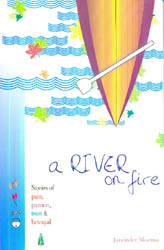 A River on Fire
by Jasvinder Sharma. Cedar Books.
Pages: 191. Rs 95.

Whether it is irony-filled poetic justice in The Rendezvous, a student coping with brutality at school in Scorching Days, Frosty Nights, or the gossipy work-shirking Manohar in Point Blank, one notes two things, viz., the story ideas in this collection are original and thought provoking, and the characters are realistic. However, the third aspect — language — disappoints. In any creative, especially literary, writing language should be as well honed as a surgeon's scalpel. Then there are other requirements like syntactical perfection in the form of correct usage of various parts of speech, and imaginative use of metaphors, words and phrases in order to develop a readable literary style and idiom. Since Sharma is an award-winning author in Hindi and Urdu, he would hopefully try to become more familiar with English language's nuances before coming up with another volume. Or, perhaps, the publishers would consider offering better editorial inputs?