Food talk
Fish flavour
Tamatarwaali machchli or fish Portuguesa is a gourmet's delight, writes Pushpesh Pant
Long years ago, we encountered that Grand Old Man of Indian hospitality PN Lamba of Kwality Restaurant and Ice Cream fame. The restaurants owned and managed by him in Delhi and London were well known in the 1960s and early 1970s but what was even more remarkable that his product had become synonymous with quality — no nonsense food, consistently tasty and great value for money.
If memory serves right, Kwality had no branches but spawned scores of similarly named eateries all over the land in nameless small towns who tried to ride piggyback on Lamba Saab's hard won reputation. What is even more interesting that they desperately tried to replicate the menu and ambience of the original to win over unsuspecting diners — most of them visitors from big cities looking for a nice place to eat well without worrying about taste and hygiene. Times have changed. Kwality in Delhi is still around but no longer a landmark against a swiftly changing skyline.
To revert to good old days, Kwality was famous not only for its mouth-watering chhole kulche, rogan josh et al but affordable continental fare like cream of tomato soup, hamburger steaks, fish and chips and caramel custard also. We had the good fortune much later to dine once with Lamba saab in his original lair and were curious to find out what would he order. He did not have to utter a word. Those who stood and served knew what he would have — his order apparently never changed. For him, it always had to be fish Portuguesa at lunch.
To be honest, we find the Portuguesa part mystifying. To us, the fishy dish tasted like our own desi tamatar wali machchi. But who are we to quibble? Everyone knows that the Europeans, first to reach the Indies, settled down here for centuries and may well have acquired taste for a local recipe and appropriated it for all time. On sober second thoughts, the more likely truth dawned on us. This was the magic that makes Kwality tick — stay loyal to indigenous palate, native yearnings for home-like spicing ever faithful to the familiar but play around with the name — serve it as an exotic delicacy without charging a bomb and keep laughing all the way to the bank. The recipe we bring to our readers this weak doesn't claim to be the one from Kwality repertoire but claims lineage from the same stock where that loveable — dare we say 'fake'— came from. Go ahead enjoy it. Call it what you like tamatar waali machchli or fish Portuguesa, it tastes great.
tamatarwAali machchli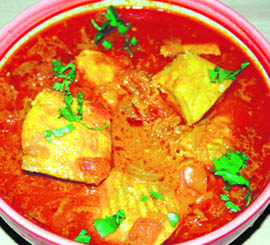 Ingredients
Boneless fish (firm white variety) 500 gm
Lemon juice 1 tbsp
Tomatoes 500 gm
Onions 100 gm
Cloves of garlic 3-4
Fresh red chillies (chopped fine) 3-4
Cinnamon powder ˝ tsp
Peppercorn ˝ tsp
Sugar 1 tsp
Vinegar 1 tsp
A pinch of turmeric
A small pinch of mixed herbs
Salt to taste
Method
Wash and pat dry the fish. Sprinkle the lemon juice, a little salt and turmeric on the fish and keep aside for about 15 minutes. Coarsely crush the garlic and pound the pepper. Slice the onions finely. Heat oil in a non-stick pot and put the onions in it. After these turn translucent add garlic and stir briskly for a minute add the tomato puree. Put in all other ingredients and cook on medium heat for 10 minutes. Gently lower fish in this sauce and cook for 5 more minutes. Add a little hot water if the gravy is too thick and threatening to burn. Let it simmer for five more minutes. Serve hot. Garnished with a sprig of fresh mint or coriander.