Hollywood Hues
Musical bonanza
The biggest selling point of Mamma Mia, the film version of the very successful Broadway musical, is the songs. One can close ones eyes and enjoy these, writes Ervell E. Menezes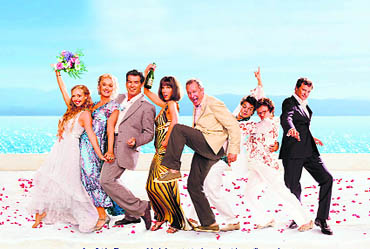 The men in Phyllida Lloyd's Mamma Mia, the Movie are low-key

REMEMBER Abba, The Movie where that delightful music group`A0were on a concert tour? It was light years ago in the late 1970s and what an entertainer it was, shades of`A0Woodstock though not of the same genre. Now three decades later, it won't be easy for the same group to perform. So, Mamma Mia, the Movie is the film version of that very successful Broadway musical, an almost scene-to-scene copy of British stage director Phyllida Lloyd and by the same director.
The story by Catherine Johnson is written purely to fit the many Abba songs which have today become near immortal, hence the purely operatic touch and we have Sophie (Amanda Seyfried), a sweet young thing just out of her teens, to be married on an enchanting Greek island where Donna (Meryl Streep), a single mother runs a hotel.
Sophie has never known her father and perusing through her ma's diary figures it could be any one of three men, Sam (Pierce Brosnan), Bill (Stellan Skarsgard)`A0and Harry (Colin Firth). So she secretly invites them.
Donna, oblivious of this development, invites her three buddies, former band mates, Rosie (Julie Walters) and Tanya (Christina Baranski)), and quite a threesome they form. Even more mad and rambunctious than the`A0'three stooges' for that's what they`A0seem to be. But it is all fun and games, the situations hardly in tune with the flow but purely to suit the plot and the songs that keep reeling out at regular intervals — "Honey, Honey," " Super Trouper," "Money, Money Money," "Mamma Mia," "Chiquitita," "Voules-Vous," "The Winner Takes All," "I Have a Dream" and "Dancing Queen" — only to name a few. They go on melodiously with the choreography exquisite and the chorus scenes stupendous, but its biggest selling point is the songs, one can close ones eyes and enjoy them.Meryl Streep picks up from where she left off in Altman's swansong A Prairie Home Companion and the change from country music to Abba is smooth as silk and is aided by an equally`A0feisty Julie Walters, scarcely recognisable, shot hair etc since last seen along with Michael Caine in Educating Rita over two decades ago. Christina Baranski completes the trio and she too has her moments. The men are more low-key but serve a useful purpose as they ham along.
Yoong Amanda Sayfried, of course, is exuberant but the character weak. Actually, credibility is thrown to the four winds and this razzle-dazzle entertainer tends to overdo itself or may be upstage (pun`A0coincidental) the Broadway musical,`A0but that too can be forgiven, for after all isn't it the Abba singers we've come to see? Or rather hear? Go for it, unhesitatingly.