Child's play
Kishan Shrikanth's debut film Care of Footpath won him the Swarna Kamal for Best
Children's Film. Maitreyee Boruah on the 12-year-old actor-director, who has entered the
Guinness Book of Records as the world's youngest filmmaker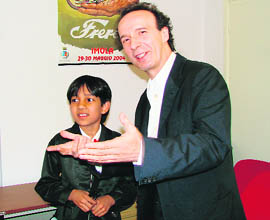 Kishan Shrikanth and Italian filmmaker Roberto Benigni at the 37th edition of Giffoni Film Festival. The Oscar-winning director has offered Kishan a role in his forthcoming film Kim, based on Rudyard Kipling's novel
NATIONAL Award-winning director Kishan Shrikanth, who ventured into filmmaking at the age of nine with Care of Footpath, has proved filmmaking can really be child's play. Kishan, who is now 12, is set to make his second film and is busy working on several scripts. "I am working on four scripts. I will choose one of them for my next film," said Kishan, who has entered the Guinness Book of Records for being the world's youngest filmmaker. "Unlike my previous film, the next one may not have a social theme," Kishan said, declining to divulge more about his plans.
Kishan collected dozens of awards for his debut venture Care of Footpath, including the Swarna Kamal, the National Award for Best Children's Film, at the recently held 54th National Indian Film Awards.
The child actor-turned-director is also working on the Hindi version of his critically appreciated film. "I will re-shoot a few of the scenes of the film and the rest will have the footages of the original film," said Kishan. Originally made in Kannada, the Telugu, Tamil and Malayalam versions of Care of Footpath have also been released. Care of Footpath is a poignant film depicting an orphan slum boy and his search for normal childhood. Kishan himself played the lead role in his first directorial venture.
Kishan, who started his celluloid career as an actor, turned to direction after he was moved by the plight of the street children in Bangalore.
"I was touched by the conditions of these children, who don't have access to basic rights, like food, education and clothing. I immediately wrote a story on them and decided to make a film on it," said the child prodigy, who has acted in 28 films, since he was four.
Young Kishan learnt the nuances of direction before taking it up.
"I'm still learning the craft and want to achieve perfection in all departments of filmmaking," he said. During his visit to Florence, Italy, Kishan was also offered a role by Oscar winning filmmaker Roberto Benigni in his forthcoming project Kim, based on Rudyard Kipling's novel by the same name.
"I am quite excited about working with Benigni Sir," he smiled. But it is not only films that Kishan's day-to-day life remains occupied with. "He leads a normal childhood. He regularly goes to school, plays with his friends and sister and does all the normal things. It is just that Kishan does not waste his time and hates to sit idle," said Kishan's mother Shylaja. — IANS