Diyas, daughters & donors
No mushy words, no saccharine sentimentality to mark Daughter's Day. We just let some tricity NGOs dedicated to the cause of the girl child do the talking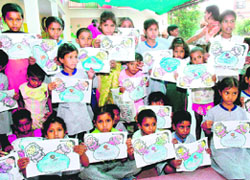 Blessed are those who have daughters. The pearl of papa's eye and mama's darling, little girls are the ties that bind the family together. The pride of a lucky few, they're not many families who know the worth of a daughter. On Daughter's Day, we offer no mushy stuff, but simply talk to some people working for the upgradation of the so-called 'weaker sex' on their celebration plans for the day.

Kids from a city-based NGO Aadeep, craft a perfect gift for Daughter's Day.

Canvas-sing for girl child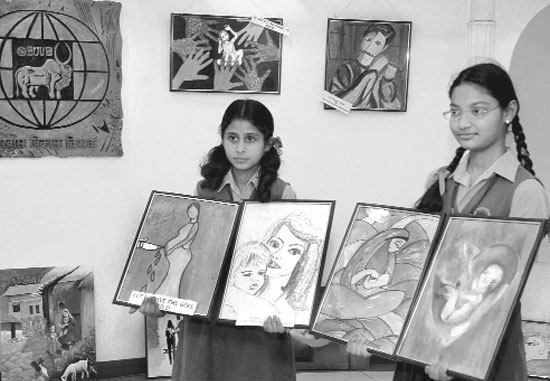 The students of Dikshant International School, with the help of their teachers, have put up a two-day art exhibition—The changing Faces of Indian Women, at IndusInd art gallery-8. Showing the myriad faces of women in India, this exhibition-cum-sale showcases 30 paintings that show them in various avatars. Painted as provocative, trendy and empowered, today's women have been depicted in various mediums. Having painted various topics, on the one hand, the children have made visuals on female foeticide, infanticide and dowry and, on the other hand, they showcase women's empowerment and the different moods of Indian women.The paintings are also for sale and the proceeds will be donated to an NGO Asmita with the objective of 'Saving the girl child in India'. Lifestyle photo: Parvesh Chauhan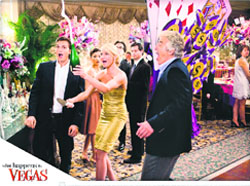 Picks & piques


Watchable
Bonding for booty
What Happens in Vegas, stays in Vegas', they say. But not for Jack Fuller (Ashton Kutcher), fired by his boss-cum-father and Joy McNally (Cameron Diaz), dumped by her fiancé in full public view, who have hit the Sin City to shake off the pain.


A scene from What Happens in Vegas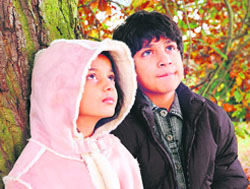 Avoidable
When Hari met silly
It's okay to get inspired, especially in tinsel town. But cloning a classic and that too in a shoddy manner is akin to sin. Sadly, the producer and directors of Hari Puttar... are guilty on this account. For, they have doled out a kiddie fare that is stale, recycled and below average.

Hari Puttar- A Comedy of Terrors
Streep leap
US actor Meryl Streep receives the Donostia Award for lifetime achievement at the San Sebastian Film Festival in San Sebastian on Friday, Spain

Kinng and Queen
Bollywood actors Akshay Kumar and his wife Twinkle Khanna pose for a picture during a promotional event for a television channel in Mumbai Photos: REUTERS
Harry potters on stage
ACTOR Daniel Radcliffe has amazed all New York critics with his phenomenal performance in Equus. The Harry Potter actor, who plays a disturbed stable boy Alan Strang in Peter Shaffer's Broadway play, has proved that the play has much more of him than just his full monty act.
Desperate Aniston
Hollywood actress Jennifer Aniston is desperate to rekindle her romance with ex-beau John Mayer. The 'Bruce Almighty' actress is reportedly phoning John every day in a bid to show him what he is missing, reports the China Daily.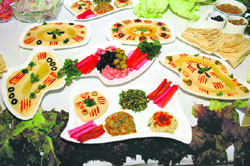 Lip-smacking Lebanese
The World Tourism Day celebrations in the city on Saturday took the spice route with the Mexican, Lebanese and Italian cuisines laid out at a food festival by CITCO
What is the one thing that connects the whole world alike? That appeals to all your senses? Some people claim to live for it. Ok, enough. No prizes for guessing. It's good food. So, when there's an International Food Festival going on in the city, it is likely to find many takers. Hotel Mountview organised the International Food Festival on Saturday to coincide with World Tourism Day.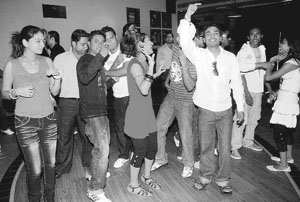 Leg Space: Guests shaking a leg at a party organised at Rendezvous-26 in Chandigarh on Saturday

Textured walls
Pastel is in, texture is wanted and when it comes to colour on the walls, people are going in for different shades and patterns writes, Harsimrat Kaur
They say, colours reflect your personality. And a trend that's catching up people's fancy more than clothes is the colour on the wall. While people are going in for quick alterations, there is a variety that needs to explored when it comes to wall paints.

Launch PAD
Festive and fair
Celebrate this festive season with the body shop's selection of gifts for your loved ones

Hush n sleep!
ALTHOUGH you may not think about them too much, pillows are a big part of our lives. Imagine, after all the rush hour and a hectic day at work when you reach back home tired and ready to do hit the bed, but find your pillow missing!- a frightening thought?? A bed without the pillows is so incomplete, but a bed with 'uncomfortable' pillows is as much a pain.

Matka chowk
Mata & muggers


Sreedhara Bhasin
VOCATIONS are manifold - some use speculation to make money, some use fear and sentiments. I was hoodwinked by an enterprising young man in a Sector 9 parking lot - who invoked the age-old tradition of donations in the name of God. He was one of those bucket- carrying Jai Shani Dev devotees you often find in the city. He ran after me and asked in the name of Mata for some alms. I obliged and gave him a fiver. He at once started invoking greater enchantments to ensure my uninterrupted happiness. I complied with his next request - that was to give him a ten rupee note that he would bless and beckon divine intervention. When I obliged, he knew he had me hooked.