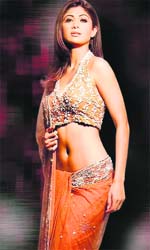 Clones and classics
The Pussy Cat Dolls flaunted stylised saris on the red carpet in New York recently. The reinvented six-yard wonder sure is travelling far, but isn't it also losing its original face in this journey? We check out
The noodle strap blouses that Mandira Bedi flaunted while anchoring a cricket world cup TV show, were in the eye of a storm some years back. But today, those same skimpy tops are what make young ladies opt for. Yes, as we already know, it's not just the blouses have gone hip but the sari too has been reinvented. So much so, the five-member American rock band, Pussy Cat Dolls, walked the red carpet at a New York fashion show recently in black shimmering saris designed by Rocky S, and the ladies dazzled, quite literally. Nearer home, we see the sensuous Shilpa Shetty wearing these stylised saris in the Bigg Boss show.
Building bridges with brushes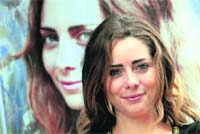 Given a choice, Marion Colomer would rather paint than travel long distances to address huge gatherings or meet the Press. But then, when duty calls, she would not hesitate even for a moment to shake off that shy mantle of hers, and get into action. For, this 25-year-old French artist's purpose in life is not just to be a good artist but also build a cultural bridge between India and her own country, which she has been doing for the past three years.

Turbaned heroes seem to be the current flavour of films. After Akshay in Singh is Kinng, Salman and Saif head in the same direction
Turbaned Sikhs as central characters seem to the flavour of Bollywood films these days. After Akshay Kumar donned the role of a Sikh in Singh is Kinng, which has done reasonably well at the box office, it's now the turn of Salman Khan and Saif Ali Khan, who will be seen in turbans. Salman is playing the role of a Sikh soldier in the upcoming multi-starrer film Heroes while Saif Ali Khan is busy shooting in Patiala for opposite Deepika Padukone in an upcoming film. Six endangered animal species have inspired a watch collection
Another company. Another cause. And we love social causes. Specially, when it involves some endangered species, we can't stop raving about it. So please excuse any digression from objectivity! On Monday, Titan launched its WWF (World Wildlife Fund) collection of watches inspired by some of the endangered species.

Gem packed
If there's one thing that's associated with a wedding as much as the groom and the bride itself, it's the jewellery! With the heavy-duty wedding season ahead, it's again that time of the year when families scout for ornaments, the bride is even ready to make a trip to the Bermuda triangle to get that 'perfect ring' and the groom finds it tougher than quantum physics to find something 'just right' for his gal. To solve most of the problems of demanding customers, Sant Ram Mangat Ram, a city-based jeweller, launched a five-day Volcanic Wedding Collection in Chandigarh on Monday, showcasing 250 pieces.

Models on malfunctions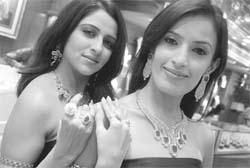 The models, dressed in black, and posing readily for the jewellery exhibition, might not be the Ujjwala Rauts or the Naomi Campbells, but they had something to say on serious issues, much like seasoned professionals. Jonsi, a Bachelor's in fashion designing from NIFD, has done shoots for Tanishq, Trendz besides shows in Delhi and Ludhiana. So, what's her take on the wardrobe malfunctions that happen? Without flinching, comes the reply, "I think, at times, they are publicity gimmicks. They're not good and should not happen." Nice to get politically incorrect answers.
Healthy move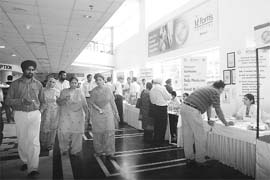 Lifestyle disorders are reaching serious proportions in urban living today. Although Chandigarh used to pride itself for being a small, green and clean town with almost negligible levels of pollution, the scenario is fast changing. The city is emulating the metros very quickly, with all the evils that lead to lifestyle disorders, the most basic of them being stress. Be it commuting through endless traffic or long working hours or tempting junk/quick food outlets or EMIs that allow you to live a life larger than your means, or even bringing up a child in a highly competitive scenario, the stress levels in urban existence are the real killers.

Light relief
As a photographer, Swarnjit Savi wanted to disseminate every concept of this art form, that photography is a technique of recording pre-existing subjects. His frames, which are on display at Government Museum and Art Gallery, do not show any object. He plays with light to bring out its abstract nature.
Gay grant


Hollywood filmmaker Steven Spielberg has donated $100,000 to a campaign to keep gay marriages legal in California. Spielberg and his wife Kate Capshaw gave the cash to the anti-Proposition 8 campaign, which helps activists oppose a high-level state vote to ban same-sex marriages, reports Hollywood.com. The vote is due to take place during the upcoming November 2008 elections.
Scarlett gets knotty


Hollywood actress Scarlett Johansson has married actor Ryan Reynolds in a quiet wedding ceremony in Canada. The 23-year-old actress tied the knot on Saturday at a remote resort outside Vancouver, British Columbia. The wedding guests included Johansson's mother Melanie Sloan and her brother Adrian Johansson, her representative confirmed.