Clones and classics
The Pussy Cat Dolls flaunted stylised saris on the red carpet in New York recently. The reinvented six-yard wonder sure is travelling far, but isn't it also losing its original face in this journey? We check out
Ashima Sehajpal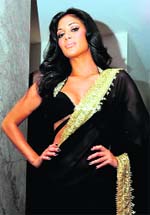 Pussy Cat Doll: Nicole Scherzinger
The noodle strap blouses that Mandira Bedi flaunted while anchoring a cricket world cup TV show, were in the eye of a storm some years back. But today, those same skimpy tops are what make young ladies opt for. Yes, as we already know, it's not just the blouses have gone hip but the sari too has been reinvented. So much so, the five-member American rock band, Pussy Cat Dolls, walked the red carpet at a New York fashion show recently in black shimmering saris designed by Rocky S, and the ladies dazzled, quite literally.
Nearer home, we see the sensuous Shilpa Shetty wearing these stylised saris in the Bigg Boss show. Everything in the frames seems fine except for the fact that these 'saris' hardly look real.
As homegrown designer Dimpy Gujral puts it, "At times, the modification is so much that it seems saris have become more or less a western outfit." She doesn't mind the alterations though, as change is natural and is the demand of the day. "I believe that the clothes we wear reflect our personality and present day saris reflect the change in the personality of Indian women.
Today, the mindset has changed. People no longer raise eyebrows when a Bollywood hottie wears noodle strap blouses. But here is a word of caution, "Alterations are important to make Gen Y girls develop a liking for it, but we should be careful not to turn it into a vulgar garment." The costume known for its inherent grace is today worn with corsets and halter blouses and is even available in a stitched form.
The models too, who display the creations of various fashion designers, feel positively about the new variations. Aanchal Kumar, a renowned model from the city, opines, "If pants have undergone changes to become bell bottoms or straight fits, a slight adaptations in the shape and design of blouses is not a deal at all."
On the contrary, Nandita Bachhawat, a lecturer, holds the view that the sari as a traditional wear has lost its significance. "We wrap a sari around our body to cover ourselves, but now you see girls going for it because its stylised version aids more exposure."
There are some people who feel experimenting with the look of saris is fine as far as it helps in increasing its popularity and feel that its westernisation is just a passing phase. Babi Grewal, a designer, shares the same thought, "The thing to be kept in mind while sporting such a sari is that one should be able to carry it with grace and confidence and have the body to flaunt it well."
She justifies the change in look of the sari, "Indian fashion is now going global. Indian designers are making clothes for Hollywood celebrities, which means that some westernisation of the Indian costumes, including the sari, is quite expected".
ashima@tribunemail.com