Look for a future in IT security
The information technology world has seen rise and fall of many jobs and careers, but one that continues to play an increasingly vital role and grow in stature is that of information security.


Careercature
Sandeep Joshi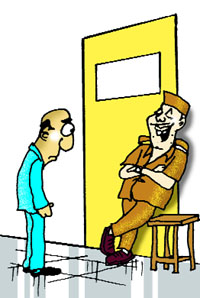 Can I help you? I am the
only staff member left in
the office. All the remaining
work has been outsourced.

Patience, perseverance pay
If you are aspiring to get into the civil services
brace yourself as you are going to be running a
marathon. You need physical and mental stamina,
a steady willpower and unflagging zest to reach
the goal.
Make way for designpreneurs!
The Union Government has announced setting up of a rolling fund at the National Design Business Incubator (NDBI) to support young designers aspiring to become entrepreneurs. The major objective of the NDBI, an initiative of the National Institute of Design (NID), is to kindle the spirit of innovation and pave the path for a new breed of 'Designpreneurs'.
Art of listening can be your
passport to success
When you listen to a person's ideas and opinions, you let him feel that he is wanted. Psychologically he feels secure. No one wants to be a non-entity. Even the lowliest of the peon wants to be treated as something useful. True, everyone wants to be treated as somebody.
Believe it or not, the art of listening is your passport to success. It may seem difficult to learn, but once learnt, it pays dividends. It is a panacea for almost all human problems. If you really listen to what the other person has to say, you virtually make him feel important. And this is what every human being yearns for!
SEBI for investor education
The Security Exchange Board of India (SEBI)  has called for better investor education and law endorsement  in the capital market during 2008.
course chat
'Madrassa' degrees likely to be recognised
The University Grants Commission (UGC) is understood to have asked the Association of Indian Universities to recognise degrees obtained from "madrassas" so that their students become eligible to apply for jobs with the Government of India. If okayed, only individuals holding "madrassa" degrees recognised by the state governments will be eligible to apply for government jobs.
Bits & bytes



HDFC, ICFe tie-up on study loans


C2C programme to boost employability of youth

Career Hotline



Scope of advertising for MBA graduate


Is MBA degree the same as PGDM course?


Upgrading ITI skills


Genetic Engineering