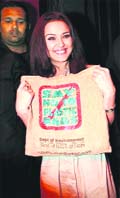 Papersmiths, ahoy
Preity Zinta flaunts the no-plastic look. Now, it's the turn of city folks to bag that style. Here're some local papersmiths who make the shopping bag green
Go green is a motto that the UT Administration has taken up in earnest. Having banned smoking already in public places, the city would see a ban on polythene bags too. With synthetic out, we check out what's on offer in the name of paper bags. Hear it from those crafting paper bags: "Paper bags sure are eco-friendly, and help us go the green way to preserve our natural resources," says Liza Tandon, who runs the NGO Choti si Asha.
Khadi repackaged
From designer wear to accessories, khadi has much to offer in its constant evolution as the Gandhian fabric
Remember those ancient beige-coloured kurtas that once used to be the favourite attire of babus and netas? In fact, their staid uniform-like designs and dull colours made them a no-no for many others. That was till khadi revamped itself. On the eve of Gandhi Jayanti, we checked out the constantly evolving look of the fabric that the Mahatma popularised.
Shadow Zone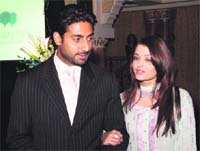 As the curtain goes up on Drona, Abhishek talks of his new outing on screen and being eclipsed by Ash offscreen
Abhishek Bachchan, who is all geared up for the release of Drona this week, says he doesn't mind being overshadowed by his wife Aishwarya Rai. At this year's Cannes Film Festival attended by him and his wife, Abhishek was repeatedly asked how it felt to be overshadowed by his wife. "Although the intention behind such questions is obviously not honourable, I don't get rattled at all. It's a pleasure to be overshadowed by the most beautiful woman in the world. I had a ball doing the Unforgettable concerts with Aishwarya," Abhishek said.
Koffee break


Sixth sense
Kidnap director Sanjay Gadhvi hopes his sixth movie will be received well
Director Sanjay Gadhvi started off his film career as a second unit director in Pathhar Ke Phool (1991). Later he directed Tere Liye (2000), Mere Yaar Ki Shaadi Hai (2002), Dhoom (2004) and Dhoom- 2 (2006). Back on the scene, he is in the news again for his new movie Kidnap.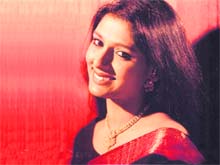 Directing not Nandita's cup of tea
After her directorial debut Firaq, she wants to go back to acting
Versatile actress Nandita Das' directorial debut Firaaq has already received rave reviews at different film festivals across the globe, but she says making a movie was the 'worst challenge' for her. She now wants to go back to acting. "Directing a film has been the worst challenge for me. The whole project took me around two years to write and conceptualise. In fact, I was so busy that last year almost didn't exist for me. Making a film involves a lot of things — pre-production, dubbing, post-production, etc," Nandita said.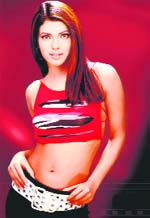 Speechless on the set
Priyanka Chopra has been rendered speechless. And it's not for want of words. In the past few days, director Vishal Bharadwaj has been making her scream her lungs out for the movie Kaminey. As a result her voice has been reduced to a croak. "I play this extremely vocal Maharashtrian girl. And I believe in making myself heard. Vishal has made sure my voice gets heard as far as possible," Priyanka said. Besides working in Kaminey, in which she is paired with Shahid Kapur, the model-turned actress is looking forward to the release of her two films—Drona followed by Fashion. While Goldie Behl presents her as Abhishek's bodyguard in his directorial venture Drona, Priyanka plays a model in Madhur Bhandarkar's Fashion.
Gandhigiri, post-Munnabhai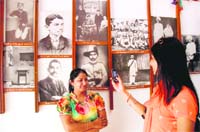 Gandhigiri was the flavour of last season. But has that resurgence of Gandhian principles survived post- Munnabhai?

Neha Walia checks out
If you have to choose between violence and cowardice, then choose violence. These words were said by the Father of the Nation and describe the paradoxical world we live in today. For someone who introduced the world to the strength of ahimsa and satyagraha, one would hardly believe that these words were uttered by the Gandhi we know.

Room service


The festive season can be the time to holiday in the hills
FESTIVE season is here and so are the holidays. And so comes good news for the ones looking forward to a quick get away to Queen of Hills—Shimla. The 'Himalayan Vacations' package by the Oberoi Cecil and Wildflower Hall presents an excellent opportunity to plan a luxurious holiday at exceptional value.
Creating a splash
A nice décor and a variety of home furnishings to choose from. With the launch of Splash, a home furnishing label, Chandigarh becomes the third exclusive store for this brand which comes from Hanung Retail ltd.
Thread bare
Showcasing an array of fabrics and myriad of hues weaves-2008, an exhibition cum sale of suits, saris and duppatas comes to city. Displayed at Kisan Bhawan-35, this exhibition gets for you a unique blend of style, pattern and weaves from across the country.
Seniors' day out
Thursday could be a day of hanging out with friends and eating out in style for our senior citizens. For, the Taj-Chandigarh is dishing out a tempting discount for all senior citizens to lunch at Dera on October 2.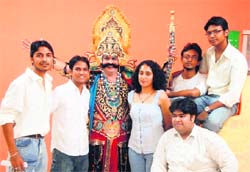 Designs on the devil: The team which designed the costume poses with 'Ravana'
Devil wears ada
Design students in the tricity decided to experiment with some devilish ideas. And whom did they choose for the makeover?
Evil incarnate Ravana
In the time of designer wear, bags and shoes, it's almost impossible to remain untouched by the label bug. Now, it's our good old Ramlila's Ravana who has chosen to go designer. In a unique initiative by INIFD, the students have given an image makeover to Ravana under a project 'Dashagriva' which means the one with ten necks.


Cover boy Yuvraj Singh at the launch
Glossies & Guys
The globally successful luxury lifestyle magazine for men, GQ , launched its much-awaited Indian edition at the grand opening of the Four Seasons Hotel-Mumbai recently. The one of a kind celebratory event brought together partnership between Porsche and Four Seasons. More than 800 guests from the luxury space, corporate houses, leading fashion designers, Bollywood and key opinion leaders attended the star-studded event.