Magic of nanomedicine
Dr Rakesh Singh
Let us imagine having bones woven with fabric such that one could fall out of a building and walk away. Imagine that in the event of a fire, microscopic vessels just 10 billionth of a metre wide, pressurised with 1000 atmospheres of pure oxygen could sense oxygen levels in the blood and provide hours of respiratory requirement for the body. Imagine medical nanites being injected into the blood stream, consuming atherosclerotic plaques in the walls of the blood vessels or doctors could search out and destroy the very first cancer cells that would otherwise have caused a tumor to develop in the body.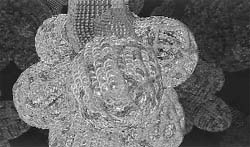 Imagine if a broken part of a cell could be removed and replaced with a miniature biological machine. Think of pumping the size of molecules could be implanted to deliver life saving medicines precisely when and where they are needed or nanomouthwashes that could eliminate gum diseases and tooth decay — nanomachine acting as security guard and attacking any foreign entity in the body.
All these sound like something from a science fiction movie, but these are the long term goals of nanomedicine that we anticipate will yield medical benefits as early as 10 years from now.
Despite advances in modern medicine over the last century, the state of current medicine has been limited both by its understanding and by its tools and in many ways is still more of an art than a science. Only within the last 50 years has medical science begun to examine disease pathology on a molecular level, thus from a molecular viewpoint, modern medicine remains crude. For example, today's drug is essentially a single molecule with an often sophisticated but always limited repertoire. With nanomedicine, tomorrow's "Smart Pharmaceuticals" could essentially be programmable machines with a range of "sensory", "decision-making", and "effector" capabilities. They can avoid side effects and allergic reactions by coming in generic, biocompatible housings, becoming active only upon reaching their ultimate destinations, and attaining almost complete specificity of action. They can check for overdosage before becoming active, thus preventing accidental or intentional poisoning. They may work in concert with 3 of 4 "sister" agents that together produce versatility unattainable by one agent alone. Despite, the vast increase in complexity over present day drugs, such agents via nanomedicine can be expected to be totally "pure" and predictable in their behaviour. Safety and efficacy may be inherent in the designs of such "drugs" in which case regulatory issues could be simplified rather than complicated.
So what exactly is nanomedicine? Nanomedicine may be defined as the monitoring, repair, construction and control of human biological system at the molecular level, using engineered nanodevices and nanostructures.
Basic nanostructural materials, engineered enzymes and the many products of biotechnology will be enormously useful in near term medical applications. However, the full promise of nanomedicine is unlikely to arrive until after the development of precisely controlled or programmable medical nanomachines and nanorobots.
Basic principle of nanomedicine is three — dimensional positional control of molecular structure to create materials and devices to molecular precision. The human body is comprised of molecules, hence the availability of molecular nanotechnology will permit dramatic progress in human medical services. More than just an extension of "molecular medicine", nanomedicine will employ molecular machine systems to address medical problems, and will use molecular knowledge to maintain and improve human health at the molecular scale. Nanomedicine will have extraordinary and far-reaching implications for the medical profession, for the definition of disease, for the diagnosis and treatment of medicine conditions, including aging and ultimately for the improvement and extension of natural human biological structure and function. Thus nanomedicine is the preservation and improvement of human health using molecular tools and molecular knowledge of human body.
Technically, it is the application of nanotechnology i.e. engineering of tiny machines; to the prevention and treatment of disease in the human body. In other words, nanomedicine is highly specific medical intervention at the molecular scale for curing disease or repairing damaged tissues, such as bone, muscle or nerve. A nanometer is one-billionth of a meter, too small to be seen with a conventional lab microscope. It is at this size scale about 100 nanometer or less that biological molecules and structures inside living
cells operate.
Nanotechnology involves the creation and use of materials and devices at the level of molecules and atoms. Research in nanotechnology began with applications outside of medicine and is based on discoveries in physics and chemistry. This is because it is essential to understand the physical and chemical properties of molecule or complexes of molecules in order to control them.
The same holds true for the molecules and structures inside living tissues. Researchers have developed powerful tools to extensively categorise the parts of cells in vivid details and we know a great deal about how these intracellular structures operate. Yet, scientists have still not been able to answer questions such as, "How many?", "How big?" and "How fast?" These questions must be addressed in order to build "nano" structures or "nano" machines that are compatible with living tissues and can safely operate inside the body. Once these questions are answered, we will design better diagnostic tools and engineer structures for more specific treatment of diseases and repair of tissues.
More specifically, it is the use of engineered nanodevices and nanostructures to monitor, repair, construct and control the human biological system on a molecular level. The most elementary of nanomedical devices will be used in the diagnosis of illnesses. Chemical tests exist for this purpose. These could be employed to monitor the internal chemistry of the body. Mobile nanorobots, equipped with wireless transmitters might circulate in the blood and lymph system and send out warnings when chemical imbalances occur or worsens. Similar fixed nanomachines could be planted in the nervous system to monitor pulse, brain-wave activity and other functions.
A more advanced use of nanotechnology might involve implanted devices to dispense drugs or hormones as needed in people with chronic imbalance or deficiency states. Heart defibrillators and pacemakers have been around for some time. But nanodevice carries this to the next level down in terms of physical dimensions, with the potential to effect the behaviour of individuals cells. Ultimately, artificial antibodies, artificial white and red blood cells and antiviral nanorobots might be devised.
The most advanced nanomedicine involves the use of nanorobots as miniature surgeons. Such machines might repair damaged cells,or get inside cells and replace or assist damaged intracellular structures. At the extreme, nanomedicines might replicate themselves, or correct genetic deficiencies by altering or replacing DNA i.e. deoxyribonucleic acid molecules.