Saturday, October 4, 2008, Chandigarh, India
Updated at 3:00 am (IST)

Centre raps Orissa CM
New Delhi, October 3
Union home minister Shivraj Patil today wrote a letter to Orissa Chief Minister Naveen Patnaik reminding him about his duties. Patil said after every incident of violence, the MHA has been making available additional Central forces that had continued to remain in the state.



Nunís rape case with crime branch


Editorial: Blot on civil society

Finally, Tatas pack up from Singur
Kolkata, October 3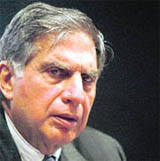 Tatas today pulled out of West Bengal for its Rs 1-lakh car Nano project, blaming it on the continuing agitation by the opposition parties, spearheaded by Trinamool Congress leader Mamata Banerjee. Addressing the media after meeting with Chief Minister Budhadeb Bhattacharjee, Ratan Tata, however, said that Nano will come out as per the committed time.
Supreme Court refuses to stay Amarinderís expulsion
New Delhi, October 3
The Supreme Court today refused to stay the expulsion of former Punjab Chief Minister Capt Amarinder Singh from the assembly, but stopped the move to have his Patiala Town seat declared vacant, pending disposal of his petition challenging the action against him for his alleged involvement in the Amritsar land development scam.