THIS ABOVE ALL
Sheikh wanted a neutral Kashmir
KHUSHWANT SINGH

If we have to name a Muslim who was the touchstone to test the secular pretensions of India, without doubt it would be Sheikh Abdullah. Not Maulana Azad, Abdul Ghaffar Khan (Frontier Gandhi), Asaf Ali or any other, but only Sheikh Sahib, popularly known as the Lion of Kashmir. I had the privilege of meeting him many times, being instrumental in publishing the English translation of his autobiography, Aatish-i-Chinar (Viking). I also had the privilege of meeting his gracious wife, Begum Akbar Jahan (affectionately known as Madar-e-meherban, or kindly mother, and Madar-e-millat, or mother of the community) and his daughter Sourayya, and her daughter Nyla Ali Khan.
I also met his eldest son, Farooq Abdullah, who later became Chief Minister of Jammu and Kashmir. I assumed I knew all that was worth knowing about Sheikh sahib. I was wrong. There were many gaps in my information. They have been filled by reading the thoroughly researched biography written by Ajit Bhattacharjea, Sheikh Mohammed Abdullah: Tragic Hero of Kashmir, published recently by Lotus (Roli).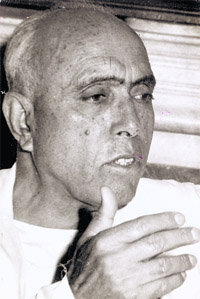 Sheikh Abdullah was disillusioned with Nehru's inability to crush Hindu fundamentalism.
Some biographical data should be kept in mind when judging Sheikh sahib's career. He was born in 1904 in Sayra village, now a suburb of Srinagar. His father was of Gujjar stock engaged in the weaving and marketing of Pashmina shawls. They were well off and devout Muslims following the Sufi tradition of looking upon people of other faiths with respect and more inclined to worship at shrines of Sufi saints than mosques.
Young Abdullah started with a maktab (school), where he memorised suras of the Koran. He was endowed with a rich melodious voice and much sought after in religious gatherings to chant verses from the holy book. This quality became a great asset when he addressed mammoth gatherings of Muslims. From the maktab he went to a school and then to college in Srinagar, Lahore and Aligarh, and passed his M.Sc exam.
Back in Srinagar, he could not get a job he deserved with his qualification. Good jobs were monopolised by Pandits and Dogras. Muslims had to be content with whatever remained. Abdullah took up teaching at a measly salary. His fortunes turned when he married Akbar Jahan in 1933. He was a strapping 6-feet-4-inch-tall, handsome young man. She was the beautiful daughter of the owner of Nedous Hotel, an Austrian, Harry Nadou, who had converted to Islam to marry a Gujjar beauty.
Inside information, which is of interest, is that Akbar Jahan had been earlier married to TE Lawrence of the British Intelligence in Lahore. He was the author of the classic Seven Pillars of Wisdom. He had organised the Arab rebellion against Ottomans, was captured by them and brutally sodomised. He was a homosexual. After a few months he agreed to divorce Akbar Jahan.
Her marriage to Abdullah was happy one. They had five children, of whom Farooq was the eldest. Sheikh Abdullah was greatly impressed by the writings of Allama Iqbal and views of Jinnah till they came out in support of the two-nation theory. He was convinced that religion should not divide people. In Kashmir he stood for Kashmiriyat, comprising Muslims, Hindus and Sikhs. He came to admire Nehru and Gandhi.
His view on the future of Kashmir was to make it a neutral state like Switzerland with both India and Pakistan guaranteeing its autonomy. An Urdu couplet sums up his ideals: Farishtey bhee aiyein to ijaazat say aayeein; yeh meyra vaatan hai, koee jannat nahin hai (Even if angels want to come, they get my permission before they come. This is my homeland, not just a kind of paradise).
Abdullah's convictions were put to test when the British agreed to leave India. Jinnah and a majority of the Muslims wanted a country of their own. Gandhi, Nehru and Azad and other Congress leaders reluctantly agreed to a division, hoping it would be peaceful. Maharaja Hari Singh hoped to retain his hold on his dominions as a sovereign state without acceding either to India or Pakistan. At this critical juncture Indian leaders were sharply divided over the fate
of Kashmir.
On one side was Sardar Patel, Home Minister. On his side were the maharaja, his Home Minister, Ram Chand Kak, Mehr Chand Mahajan and B.N. Mullick, head of the Intelligence Bureau. All of them distrusted Abdullah. Matters came to a head when Pathan tribesmen aided by Pakistan invaded Kashmir, plundering and ravaging towns through which they passed. They were within a few miles of Srinagar.
The maharaja's troops put up no resistance. He made a last-minute decision to accede to India and to step down and have Sheikh Abdullah sworn in as Prime Minister. Indian troops were flown in the nick of time. They, assisted by Abdullah's supporters, drove back the marauding tribesmen and saved a divided Kashmir for India. However, Sheikh sahib's problems were far from over.
Militant Hindu revivalism, fuelled by massacres of Hindus and Sikhs during the Partition, raised its ugly head. It was accentuated by the death of Jan Sangh leader Shyama Prasad Mukherjee in detention in Srinagar. Abdullah was accused of anti-Indian activities. Mullick, who had a serious ego problem and wanted to portray himself as an astute politician and a hero, played a mischievous role and persuaded Sardar Patel to arrest and charge Abdullah and his wife with treason.
They were arrested and put on trial. The trial fizzled out. Nehru stood by Abdullah. Sardar Patel invited Maharaja Hari Singh, Maharani Tara Devi and Karan Singh to dinner. Nehru invited Abdullah to stay with him, sent him with the Indian delegation to the United Nations and allowed him to visit Pakistan. Nothing helped.
Abdullah was so disillusioned with Nehru's inability to crush Hindu fundamentalism that he openly came out for Azad Kashmir. Nehru had him arrested. He was in detention for 11 long years. He did not bear any grudge against Nehru. When he heard of Nehru's death, he flew back from Rawalpindi, where he was on an official visit and bade his friend a tearful farewell.
When released, he accepted a reduced chief ministership from Indira Gandhi. He died a broken man. This is a very rough summary of Sheikh Abdullah's life. For a complete, unbiased account you can do no better than read Bhattacharjea's detailed account of his achievements. He was not only the 'tragic hero of Kashmir' but also the paradigm of a patriotic Indian.