Dash for the Everest
Kalpana Dash always had it in her to make it to the peak. But it was in her third attempt that she conquered the world's highest mountain and became the oldest woman in India to achieve this feat, writes Eliza Parija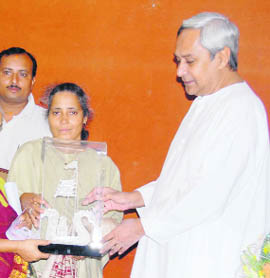 Orissa Chief Minister Naveen Patnaik recently honoured mountaineer Kalpana Dash at a special ceremony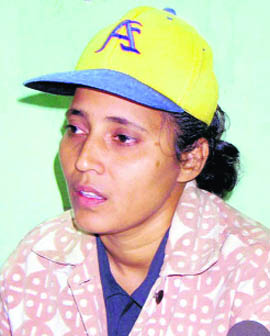 Kalpana Dash fell in love with mountains on treks with her father. She has now set her heart on climbing the Kilimanjaro and the Kanchanjunga Photos: WFS
For a woman mountaineer who has successfully scaled the world's highest peak in the most trying of conditions, Kalpana Dash (42) from Orissa is extremely modest, unassuming and soft-spoken. A great believer in destiny and hard work, she seems to be firmly anchored, hardly displaying any of the aggression that is characteristic of many sportspersons.
Kalpana always had it in her to make it to the top…of the world. But it was this May, in her third attempt, that she was able to prove her mettle and become the oldest woman in India to conquer the 8,848-metre-high Mount Everest. Incidentally, she is also the first civilian and the first Oriya to achieve this. She was among 27 individuals who successfully scaled the Everest, as team members of High Altitude Workers of HAD International Everest Expedition, 2008.
In a group that included ace climbers from Nepal, the US, Canada and Ukraine, among other countries, Kalpana led a team of 10. She reached the peak at 11.30 am, IST, on May 21. Hard to believe, but the ace climber is actually a lawyer by profession and pursues mountain climbing as a hobby. She has never enrolled into a professional mountaineering course and her desire for climbing the highest peak emerged more out of interest and passion in the sport. But not having professional training can have its disadvantages. Kalpana's first two attempts were unsuccessful. The first time she climbed the Everest in 2004, she could only make it to 7,300 metres without oxygen.
During her second try, in 2006, despite climbing 8,048 metres, she was forced to return after entering the death zone—an area marked by oxygen scarcity, sub-zero temperatures and strong winds. She admits that during both her failed attempts, her preparations had been very amateurish. She had no idea of the harsh climate, health hazards involved or the right kind of equipment to be used. So, for her third attempt, a resolute and better-informed Kalpana left nothing to chance.
"My prayers were answered when I scaled Mount Everest, especially after I had been trying for the last few years," she says. She admits that for her earlier two attempts she was not as well prepared. "But the previous failures acted like the perfect stepping stones for me. This time I was better guided and had full knowledge of the weather conditions. My mountaineering equipment and gear were also better this time," says the remarkable woman.
What helped immeasurably was the expert guidance of mountaineer Bachendri Pal, the first Indian woman to scale the Everest. Kalpana met Pal during a mountain expedition she had attended and the two women subsequently stayed in touch. So, when Kalpana decided to prepare for her third climb, she decided to take the help of the master herself. Pal taught Kalpana some climbing techniques in addition to other vital mountaineering tips. Kalpana stayed in top shape with a daily regimen that included climbing the 785-metre high Kapilas Hill, near Dhenkanal, her hometown, and a mere 100 kilometres from the state capital of Bhubaneswar.
In a state like Orissa, which rarely gives priority to the promotion of sports and sportspersons, pursuing an extreme sport like mountaineering from the modest town of Dhenkanal would surprise many. Moreover, mountaineering is considered a predominantly male pursuit due to the tough and trying preparations involved. But Kalpana was clear-headed about her approach: "I have never considered it from the male-female point of view. For me, it was my passion." She recalls: "I imbibed love for mountaineering from my father, Gunanidhi Dash. He would scale all the hills and mountains around our hometown and I used to go along with him."
Incidentally, Kalpana was the only Indian among the nearly 500 people who were slated to attempt the summit this year. She is also the first Indian woman and the third Indian climber to have been able to reach the summit of the world's tallest peak after raising funds privately. All the other Indian climbers, who have been able to reach the summit of the great peak, have either belonged to the armed forces or to institutes that have lent them training and financial support.
As news of her achievement reached Orissa, it was celebration time in the state. Her family was inundated with congratulatory messages from dignitaries and ordinary people. Governor Murlidhar Chandrakant Bhandare stated that Kalpana's success had proved that sheer will power leads to success and her outstanding achievement had put her in the exclusive company of the very best women Everesters. Her success signified the strength of woman power, which would be a source of inspiration to innumerable women in the state, added the Governor.
Chief Minister Naveen Patnaik also praised the mountaineer on her unique achievement. Hundreds of jubilant local residents gathered outside her house. According to Pal, Kalpana has now become an inspiration for all Indian women. "She has chased her dreams and reached where she wanted to be," says Pal. But Kalpana's ascent to glory has been far from easy. She had to battle financial constraints for each of her attempts. When she could not generate the requisite funds for the expedition, the people of Dhenkanal came to her rescue and organised a sponsorship campaign for her.
She also managed to arrange for a large portion of the money with the support of corporate houses. "But I consider myself quite fortunate that, in spite of the constraints, I had the good wishes of the people of Orissa. I can never thank them enough for their prayers and goodwill," she
says softly. —WFS