M A I N N E W S
Market Mayhem

Sensex sinks to 2-yr low
Tanks 724 points, closes below 12K
Tribune News Service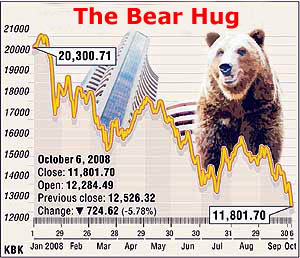 Mumbai, October 6
Amidst largescale selloffs by financial institutions worried about deteriorating global economic conditions, the Sensex today fell to 2006 levels to close 724 points down at 11,801. In the broader markets, the Nifty fell 215 points to close at 3,602 points.
Globally, markets experienced a hammering amidst reports that European banks were facing a financial crisis on the lines of American financial institutions. Markets in Hong Kong, China, Japan, South Korea, Singapore and Taiwan were down between 4.12 per cent and 5.23 per cent. Indices in France, Germany and the UK were trading lower at the close of Indian markets.
Among the Sensex stocks, Sterlite fell the most closing more than 15 per cent. Other losers included Reliance Infrastructure and JP Associates, which were down more than 13 per cent each. Tata Power, DLF and Tata Steel were also deeply in the red.
All sectoral indices were down with the consumer durables falling more than 11 per cent. Realty and metal indices fell more than 9 per cent.
Reports from Europe say, central banks in France and Germany were on fire-fighting missions to save their financial institutions. BNP Paribas, France's biggest listed bank, was taking control of Fortis at a cost of 14.5 billion euros. Germany gave blanket bank deposit guarantee over the weekend to prevent panic when the markets opened.
Germany also recapitalised two European banks and worked out a bailout plan to rescue the country's Hypo Real Estate.