Health Notes
Scorpion venom for cancer
LONDON: It may sound like the ultimate poison, but radioactive scorpion venom is being tested as a treatment for malignant brain cancer.
The sting of the Middle Eastern scorpion Leiurus quinquestriatus unleashes a cocktail of neurotoxins containing a peptide that is non-toxic to humans but binds to tumour cells. In tests, the peptide has invaded tumours in breast, skin, brain and lung tissue while leaving healthy cells untouched.
"It's as if the tumours collect it," New Scientist quoted Michael Egan of the company TransMolecular in Cambridge, Massachusetts, as saying. — ANI
Sick leave may affect longevity
LONDON: Employees who take long spells of sick leave for circulatory or psychiatric problems or for surgery are at an increased risk of dying early, says a new study.
The study suggests that specific reasons for absence such as psychiatric problems or heart disease may improve the prediction of premature death.
Jenny Head from University College London analysed the sickness absence records of 6,478 British civil servants between 1985 and 1988 and analysed associations with death until 2004. — ANI
Brain pathway behind obesity
WASHINGTON: While conducting a study on mice, researchers at the University of Wisconsin-Madison discovered a messaging system in the brain that directly affects food intake and body weight.
When Dongsheng Cai, an assistant professor of physiology at the UW School of Medicine and Public Health, and colleagues looked for this same pathway in the hypothalamus — the part of the brain that regulates appetite and energy balance — they found it also influenced how much mice eat. — ANI
Critical health risks from plastic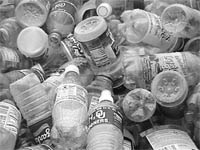 WASHINGTON: Plastic bottles, cans and other products have extremely harmful effects on humans and laboratory animals, according to six environmental studies.
In a critical new research on environmental contaminants and adverse reproductive and behavioural effects, it was found that exposure to Bisphenol A (BPA), phthalates and flame retardants (PBDEs) could lead to many adverse health effects.
Plastic products contain endocrine disrupting chemicals" that can block the production of the male sex hormone testosterone (phthalates used in PVC plastic) and mimic the action of the sex hormone estrogen. — ANI