Mission B-School


WHEN you buy a travel ticket to a certain point, you are 99 per cent sure of reaching there. However, there are some journeys where in the chances of reaching your destination is less than 1 per cent. The ticket sales for this journey have ended and hundreds of thousands of students are anxiously awaiting the magical train. The train is scheduled to arrive at different platforms in different parts of the country on November 16 at 10 a.m. A major part of the journey will be covered in the ensuing 2.5 hours. Yes, the journey we are talking about is CAT. I attempted to complete this magical voyage thrice and managed this year, after great struggle.
Know your true calling
It is vital to be on familiar terms with yourself, your mind &
your abilities to choose the right career, writes R.C. SHARMA
your abilities to choose the right career, writes R.C. SHARMA AS the job market becomes highly competitive, it restricts the choice of desired career, the odd exception being computer professionals, who can at least go and work in foreign countries. In order to build a sound career in your area of interest, it is not only vital to develop skills in that area but also to have good assessment of the job market.
Personality & Profession
CAREER development researcher John Holland found a deep relationship between an individualís personality and his or her career choice. He defines six basic personality types and their related choices. As many individuals go in for professional counselling, one can also find the right career with some introspection. Read on to find out more:
Careercature
Sandeep Joshi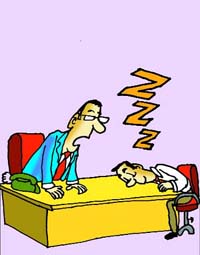 I hope you have relevant work experience for this dream job
Has the bubble burst?
The US crash has created uncertainty for IT & management professionals. Fresh passouts will be worst hit, but itís a passing phase, a Ma Foi report suggests
THE financial services and IT sector that earlier occupied pride of position in the job market has been displaced this year. And this is because the effects of sub-prime will results in lower hiring across these segments in the last quarter of 2008 and the first quarter of 2009.
Smart Skills
Mind Matters
There is a heightened need for trained counsellors and clinical psychology can be both demanding and deeply rewarding. Are you game?
COMPLEX living conditions ó violence, natural calamities, financial uncertainties, the generation gap, economic disparities and so on ó have played havoc with modern manís social and emotional well being. More and more people feel the need and are ready to acknowledge that there are professionals who can help them handle mental and emotional problems.
Bits & bytes
Troubleshooting made easy
THEORETICAL exposure to troubleshooting does not help much when it comes to solving real-time faults, which is why this kit comes in handy. A computer fault simulator kit developed by Jetking will now be part of its certified hardware and networking professional course and would help develop troubleshooting skills of IT students.
Career Hotline
Go on, just do it!
Q. I am a first year student of IT. Some of my friends told me that BBA, BCA and IT graduate and PGDBA degree holders are not eligible to apply for Civil Services. Please clarify.