123 law makes no change in fuel assurances: Bush
Ashish Kumar Sen writes from Washington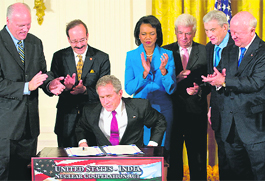 SIGNED AND SEALED: President George Bush signs the United States-India Nuclear Cooperation Approval and Nonproliferation Enhancement Act in the East Room of the White House in Washington DC on Wednesday. — AFP

President George W. Bush on Wednesday allayed India's concerns about nuclear fuel supply assurances, saying the legislation he was signing "does not change the fuel assurance commitments that the United States government has made to the government of India, as recorded in the 123 Agreement."
Bush further noted that the agreement also "grants India 'advance consent to reprocessing' which will be brought into effect on the conclusion of arrangements and procedures for a dedicated reprocessing facility under IAEA safeguards."
And in a sign that New Delhi is satisfied with the language of the agreement, a US official announced secretary of state Condoleezza Rice and external affairs minister Pranab Mukherjee will initial the US-India nuclear deal during the latter's visit to Washington on Friday.
State department spokesman Sean McCormack said the signing would take place at 4 pm.
Asked why the 123 Agreement was not signed when Rice was in New Delhi last weekend, McCormack explained the Bill "had to be enrolled."
He said this was "a necessary step that had to be taken before we felt we were able to move forward with the signature of the US-India agreement."
"That didn't take place in the timeframe that we were in India. And the Friday date is mutually convenient for foreign minister Mukherjee, who is flying all the way to the US, and we appreciate that, and secretary Rice as well," McCormack said.
On reports in the Indian media that New Delhi was seeking assurances on fuel supplies and reprocessing of spent fuel before signing the agreement, McCormack insisted, "from our perspective, it centered solely on this technicality of our needing to move through some bureaucratic steps."
With a flourish of his pen, Bush ended three decades of India's nuclear isolation (as reported in these columns on Wednesday) and ensured for himself a piece of legacy many believe to be a foreign policy success. Surrounded by members of his Cabinet, Congress and the diplomatic corps at the White House, Bush signed legislation that allows US companies to sell nuclear fuel, technology and reactors to India.
They had been prevented from doing so after India conducted its first nuclear test at Pokhran in 1974. In exchange, India has placed its civilian nuclear reactors under safeguards and has opened these facilities to UN inspection. Analysts say India could still face serious consequences in the event of a future nuclear test.
The lavish signing ceremony capped more than three years of intense diplomacy and tough negotiations. Vice-President Dick Cheney, secretary of State Condoleezza Rice, energy secretary Samuel Bodman, supporters of the deal on Capitol Hill and India's Ambassador in the US, Ronen Sen, and the US Ambassador to India, David Mulford, were among those who attended the signing ceremony.
Speaking at the White House, Bush said the legislation he was about to sign made no changes to the terms of the 123 Agreement he had submitted to Congress.
Daryl Kimball, executive director of the Arms Control Association, said Bush's signing statement left "open the question of how the language in the 123 Agreement on fuel supply assurances and termination should be interpreted."
Kimball noted, "Bush's comments do not in any way negate the US law (including the Atomic Energy Act, the Hyde Act, or H.R. 7081) or his own administration's statements that make it absolutely clear that if India resumes testing, US nuclear trade and fuel supply assurances shall be terminated and the 123 Agreement is, as Sen. (Richard) Lugar put it, 'over.'"
However, Ambassador Sen said India's concerns had been adequately addressed. Bush said the legislation "builds on the growing ties between the world's two largest democracies."
"This legislation will enhance our cooperation in using nuclear energy to power our economies. It will help us work together even more closely to reduce the danger of nuclear proliferation across the world," he said.
The President thanked the leadership in Congress, including two late lawmakers - Republican Rep. Henry Hyde and Democratic Rep. Tom Lantos - who first crafted and then championed the deal from the start. The Hyde Act gets its name from the Republican lawmaker. The Indian American community was present at the signing. Texas-based Ashok Mago, of the US-India Forum, recalled the initial lukewarm support when Bush first presented the deal in 2005.
"Supporters were getting nervous, but were determined to succeed," he said, adding, "for Indian Americans this was personal.
It was an opportunity to help their country of birth and their adopted homeland."
"You may or may not agree with President Bush's domestic and or foreign policies but one thing we all can agree on that no other US President has done for India what this President has done," Mago said.