This Above all
No place of pride for Thackerays
KHUSHWANT SINGH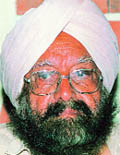 All Indians are proud of the achievements of Chhatrapati Shivaji and the Marathas, who once ruled the subcontinent extending from Karnataka to Kolkata and Punjab. Not many Indians are proud of the Shiv Sena or its founder Bal Thackeray, his son Udhav or nephew Raj, who, between them, claim to have revived Maratha pride. Their methods are crude and unpatriotic, their following mostly drawn from illiterate and lumpen elements confined to Maharashtra.
I could have said all this in Bombay where I lived for nine years. I dare not say it today in the Mumbai of their making. I would be roughed up by their hoodlums, my books burnt in public places. (I would not mind that as they would add to my royalties). If they could destroy the archives of the Bhandarkar Institute, tear up MF Husain's paintings and vandalise offices of The Outlook, mere book burning would be like celebrating Divali.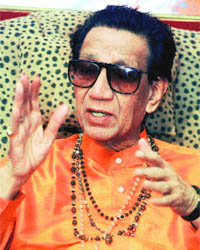 Bal Thackeray insists that in Mumbai everyone must learn Marathi
However, I would hate being bashed up, particularly as I would get no protection from Mumbai's constabulary, which is on their side. That is why Mumbaikars, who loathe their guts, dare not speak against them. And netas of the saffron brigade like Rajnath Singh, president of the BJP, who ostensibly stands for promoting the national language Hindi, pay court to the Shiv Sena supreme, sitting on his throne, surrounded by heads of snarling tigers and busts of Shivaji. He insists that in Mumbai everyone must learn Marathi. He also exhorts the new generation of Marathas to devise a 'Hindu bomb' which will target only Muslims.
Is this also in the saffron agenda? But one thing is certain that if any of the three afore-named said what they say in Mumbai in any other part of India, they would get a very rough reception from the hands of thousands of non-Maharashtrians they violently ejected from Maharashtra in recent months. Three words are frequently used to describe this phenomenon—region, chauvinism and jingoism.
They have interesting backgrounds. Chauvinism originated from Nicholas Chauvine, a soldier in Napoleon's army, who made a great display of loyalty to his emperor and became somewhat of a joke. Jingoism came into vogue during the Russian-Turkish War of 1877-78, which roused much passion in England. A song that became popular ran as follows: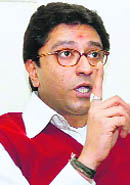 Raj Thackeray's followers are mostly drawn from illiterate elements confined to Maharashtra
We don't fight, yet, by jingo, if we do;
We've got the ships, we've got the men;
We've got the money, too.
Bal Thackeray, his son and his nephew are chauvinists, ever singing ballads in praise of Shivaji. They are also jingoists, who threaten to take on anyone daring to oppose them. They don't have any ships but they have plenty of men, and having India's richest city in their stranglehold, they have plenty of money, too.
Name-dropping
Humans can be divided into two categories. In the first come persons who brazenly or discreetly try to convey importance. In the second come those who take pains to avoid doing so. The people in the first category outnumber those in the second one, noticeably in our country, where most people want others to know they are the ones who matter.
I was fortunate in meeting some in the second category and had to extract information from them or find out later who they were. One such encounter sticks in my mind. When living in London, I often went off for long week-ends and stayed in some remote pub in the countryside to be alone by myself. On one of such weekends, I chanced upon a small pub, which had a couple of rooms for guests staying overnight. It was deep inside a dense forest with a small pond inhabited by moorhens.
Overlooking it was Hever Castle, the residence of the Astors. Most of those who came to the pub were farmers or game-keepers of the Astors Estate. One day after breakfast, I took a long walk in the woods before retiring to my room to read and write. It was winter time. The landlord had a log fire lit in my room. That morning I was sitting in my deep leather armchair wrapped in shawl, with my reference books around me, and scribbling notes on a pad in my lap when I heard a gentle knock on the door. "Come in", I shouted.
The door opened and a tall, grey-haired lady walked in. "Forgive me for disturbing you", she said. "I heard an Indian was staying here. So I took a chance to exchange a few words". I apologised for not getting up to greet her and simply asked: "Have you been to India?" "Yes, I was there for five years with my father". "Where?" "Mostly in Calcutta, but we travelled a great deal across the country". "Was your father in the army?" I asked her. "No, he was a civilian", she replied. I assumed he was either in the ICS or a Boxwala. I asked her.
She denied his being one or the other and turned to ask me what had brought me to Hever. I told her I was in the Diplomatic Service (that sounded important enough) and took week-ends off to be with myself. So it went on for a few minutes—I, in my chair; she standing in front. "I must not waste more of your time", she said finally. "Enjoy walking in the woods". "But you haven't told me what your father was doing in India", I protested. "If you must know", she replied, "he was the Viceroy of India". The publican later told me she was Lady Astor, owner of Hever Castle, daughter of Viceroy Lord Minto.
Ode to Raj Thackeray
The greatest icon of the country;
Should naturally beg his mercy;
Cringe and crawl and virtually shed tears;
So that the emperor of Mumbai finally hears;
In this most cosmopolitan city;
Why should anybody speak Hindi;
And even mention Bihar and UP?
And we should congratulate;
The government of the state;
For giving a free rein to this campaign of hate;
And not hurting the sentiment of Thackeray, the great;
May Amitabh Bachchan and family;
Along with the rest of the country;
Gracefully bear this indignity.
— (Courtesy: Kuldip Salil, Delhi)