Voice of sanity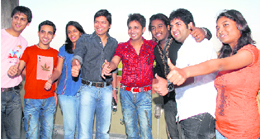 Singers Shaan and Sukhwinder,
in town to promote the Voice of
India programme, talk about reality
shows and right notes
If the sensex were such an easy thing to decode, each one would of us have made millions by now. And if you could understand the 'undertones' of reality shows, we could have written an encyclopedia on it by now.
Shaan and Sukhwinder (centre) act cheerleaders for the VOI finalists.



Greek Goddess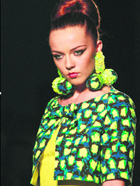 A model presents a creation by designer Vassilis Zoulias during the fashion week at Athens. Reuters photo: John Kolesidis
Veena vandana
In the city for a concert, satvik veena maestro Salil
Bhatt talks about his latest release Sopan and more
"Indian classical music till now has been believed to be
the choice of an esoteric group of art lovers, but this
perception has changed over the years and this genre
has gained supremacy on the world music scene," claims
the young Satvik Veena virtuoso Salil Bhatt.
Trance national
The collections unveiling at the Wills Lifestyle
India Fashion Week in the national Capital next
week have drawn upon a range of inspirations,
from the monastic to the mystical
Sonia Jetley recently hosted a Preview of her WIFW
S/S 2009 Collection at her photo-shoot. Her Spring/
Summer 2009 Collection called Trance suggested a
mystical journey from the earth to an ethereal experience
of awakening life, a transition from reality to the world of tranquility.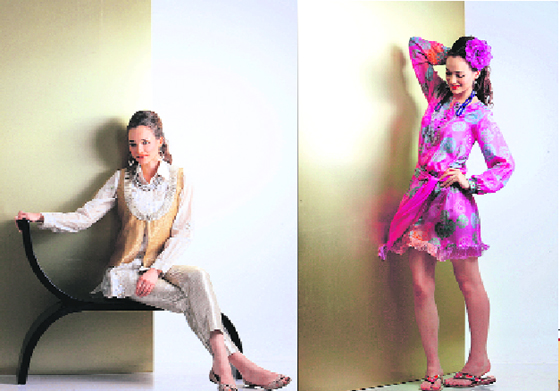 Sonia Jetley's mystic muse (left); and hues of jelly and corals.
Screen test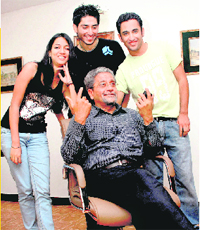 The Storm modelling and acting school in the city has forayed into film production. Lending an opportunity to its students to act, the school is already shooting a film in Shimla. Titled Jalte Zakhm, the film features Pritesh Ahlawat, an alumnus of the school who passed out in August 2008. On board Storm is noted film actor-director, Dr Mohan Agashe, and Umesh Kant, is the director of the school. — TNS
Fashion feted
These are awards that honour the emerging
idea of India expressed through fashion. At
a time when India is emerging as a big market
globally, its fashion needs are also expanding.
Looking Ladakh
Shantanu-Nikhil's Ladakh-inspired
collection at WIFW has a palette of
cement greys, pristine blues and ash
It is a fashion collection inspired by the
extreme nature of Ladakh with colour palettes
ranging from cement grey to pristine blue. The
Spring/Summer 2009 collection by eminent
fashion designers Shantanu-Nikhil for the
big daddy of fashion events---Wills Lifestyle
India Fashion Week---was showcased in New
Delhi with Bollywood star and former Miss India
Diya Mirza walking the ramp.
Swiss Beats
Jazz. Classical. Funk rock. A medley
of rhythms is what Eliana's rock band
has brought to the tricity all the way
from Switzerland
All these years, we have been told time
and again that music traverses boundaries
and we have seen it happening too. This
time too, music has traveled from the snow-
clad mountains of Switzerland.
Caratage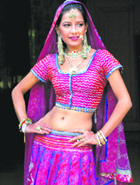 Photo: Pradeep Tewari
It's the festive season and showcasing some brilliant designs and sparkling jewels, Art Karat has put up 'Jewel feast', an exhibition-cum-sale of trinkets at Hotel Taj-17. Crafted by Asha Kamal Modi, these jewels come sprinkled with colourful designs
and stones.
Mind over body
Want that perfect body with perfect curves? Do you
slog it out in the gym or run yourself dry to lose the
excesss baggage your body carries? Well the answer
lies in yoga. Now, this is no big secret, nor is it not-
heard-before information.
Launch Pad
Solar power
Orra- The diamond destination has been the pioneer of
spiritual jewellery in the country. Launching its eleventh
collection in the spiritual series, the Suryashakti Collection
of pendants is inspired by the special bond shared by the
sun and gods.
Rice to the occasion
Shakti Bhog Foods Ltd launched its handy and reliable
pack of premium gold basmati rice. The pearly white,
long and slender grain with an exquisite natural aroma
is cultivated in the beautiful and fertile foothills of the
majestic and pristine Himalayas.
Bon Appetit
Apple art
Ah…the luscious shiny red orb that was the undoing of
good'ol Adam is back on our fruit-stalls! Initially, when I
look at these gleaming beauties in the market, my reaction
is more a scowl than a smile because their arrival heralds
the departure of my favourite mango!