M A I N N E W S
Economy, banks safe: RBI chief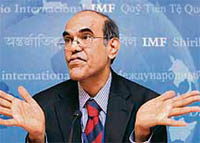 — D. Subbarao
RBI Governor
Washington, October 11
Assuring depositors that their money was safe in banks, Reserve Bank of India Governor D. Subbarao today said the central bank was geared to inject more liquidity into the country's financial system and that there was no cause for anxiety.
"Our banking system is stable and sound. There is no reason for any anxiety or uncertainty," he said while talking to the media here.
Pointing out that the RBI had already taken action to inject liquidity into the system, Subbarao said: "We are monitoring the situation on a continuous basis and stand ready to take appropriate, effective and swift action." As regards the Indian banking system, the Governor said the banks are sound, well-capitalised and well-regulated.
"...Indian banks do not have any direct exposure to sub-prime mortgages. The banking sector, through its overseas branches, has some exposure to distressed financial instruments and troubled financial institutions.
"But this exposure is part of the normal course of their business and is quite small relative to the size of their overall business," said Subbarao, who is here to attend the Annual Meetings of the World Bank and the International Monetary Fund.
Defunct mortgage loans are the primary reason for the financial crisis sweeping the world.
Referring to the turmoil in the stock market, the RBI Governor said: "What we are witnessing is an indirect knock-on effect of the global financial situation. This is only a reflection of the uncertainty and anxiety in the global financial markets.
"The fundamentals of the Indian economy have been strong and continue to be strong. Our forex and money markets have been functioning in an orderly manner."
n India can weather storm, says FM: Finance minister P Chidambaram expressed confidence that India can weather the storm of financial crisis blowing across the world saying the country's economic fundamentals and the banking system were strong. He admitted there is a liquidity crunch in the market and that the economy was facing "spillover and ripple" effects of the global storm but held out an assurance that the "RBI is ready to take further steps and infuse more liquidity if necessary".
n Indian economy will continue to perform well: IMF Dismissing fears of global financial contagion impacting India, the International Monetary Fund has said that the country's economy will continue to perform well. "Overall, we see the Indian economy continuing to perform well," said Oliver Blanchard, economic counselor and director of International Monetary Fund (IMF) research department in Washington.
n US to have stake in banks, first since Depression: The US government will buy an ownership stake in a broad array of American banks for the first time since the Great Depression, Treasury Secretary Henry Paulson said late on Friday, announcing the historic step after stock markets jolted still lower around the world despite all efforts to slow the selling stampede. — Agencies