Food talk
Dips for all reasons
Based on yoghurt, brinjal and gram, thande bharte offers a different and nutritious saatvic repast, writes Pushpesh Pant
THERE is a time to feast and a time to fast. Family and friends have reminded us of this constantly in the past month. For the Muslims, the holy month of Ramzan is earmarked for ritual abstinence from food and sharing the goodies after sundown in Iftar parties. Orthodox Hindus observe a no less strict dietary regimen during the fortnight designated as pitripaksha shraddha and eschew meats, onions et al.
This is followed by Navaratra and the fasting continues. Restaurants advertise special vegetarian menus and turn summersaults in the kitchen to concoct exotic tempting recipes that can attract reluctant diners with novelty factor. In times gone by, phalahar — literally a diet of fruits — was the prescribed and only permissible food. Interestingly, phalahar was not restricted to fruits. It included kotu/singhare ka aata, makhana, potatoes, kheer and sitaphal etc. Our late friend Hanumantharao had once taken great pains to unravel the mysteries of saatvic repast for us — akin to halal in Islamic tradition but more about that some other time. Suffice it to note here that the bottom line is to avoid dark tamasik) and red (signalling danger?) ingredients. These are believed to trigger avoidable passions and stoke lust or greed.
Traditional systems of medicine agree — be they ayurveda, yunani or Chinese-Tibetan — that such proscribed items adversely affect our body. What is also agreed upon is that there are foods that are good for all of us at all time. Pure and nutritious, these recipes in one form or other are included in the feasts in the season of fasts. Based on yoghurt, brinjal and gram, the dips, we share with our readers this time may not meet with the approval of food fundamentalists, but let us reassure you, these are subtle, substantial, refreshingly different and above all nutritious. Supremely satisfying.
No one stops you from straying from the path of virtue and souping these up with what is eschewed by the really strict adherents of faith.
We suggest that you prepare and serve the trio together to enjoy the contrast in tastes matched by visual delight. Don't treat these as a side dish but substitute for a main course to lighten the burden on the stomach and feel good.
Thande Bharte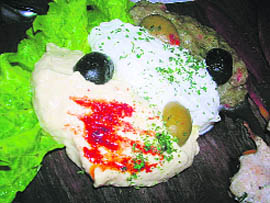 Ingredients
Bengal gram (husked, soaked overnight) 200 gm
Hung yoghurt (whisked) 400 ml
A large brinjal about 400 gm
Olives (without stones, halved) 4-6
Sweet peppers (red or yellow,
cored and chopped)/optional half
Fresh ginger (scraped, cut into matchsticks) 2 inch piece
Green chillies (slit/chopped/deseeded) 2-3
Lime juice 1 tsp
Peppercorns crushed coarsely 1 tsp
Olive oil/ any other salad oil 1 tbsp
Mint and coriander leaves (chopped fine) 1 sprig each
Kashmiri lal mirch `BD tsp
Salt to taste
Method
Roast the brinjal on open flame till the outer skin is charred. Cool, peel and mash the flesh. Sprinkle salt. Heat oil in a non-stick pan and lightly stir-fry. Sprinkle half the limejuice, along with salt and add the peppers, chillies and ginger. Put in the crushed peppercorn and mix well. Keep aside.
Grind the grams to a coarse paste adding a little water. Add salt and lime juice. Adjust seasoning and keep aside.
Add salt to hung yoghurt and whisk again. Garnish with Kashmiri chilli powder and olives.Serve all three on the same platter and enjoy with whatever or by itself savouring alternating spoonfuls.