ART & LITERATURE

'ART & SOUL
ENTERTAINMENT

TELEVISION

GARDEN LIFE

NATURE

FOOD TALK

CONSUMER RIGHTS

FASHION

HOLLYWOOD HUES

BRIDGE

ULTA-PULTA
EARLIER FEATURE

TRAVEL

RELATIONSHIPS

DREAM THEME

TIME OFF

Wait for Nano
Ratan Tata's dream project has run into rough weather and Tata Motors has been forced to move out of Singur. The wait for the Rs 1-lakh car just got longer. Girija Shankar Kaura from New Delhi, Subhrangshu Gupta from Kolkata and Shiv Kumar from Mumbai report on Nano's troubled journey

| | |
| --- | --- |
| AFTER withstanding violent protests and attacks on staff and its small car factory in Singur, West Bengal, for almost two years, Tata Motors' Chairman Ratan Tata has finally opted to abandon the manufacture of the small car, Nano, in the state. The end result has been that the opposition to the Singur plant, which was on agricultural land acquired by the state government, forced the Tatas to miss the Durga Puja deadline to give the country a Rs 1-lakh car. | |
A PROMISE IS A PROMISE: Tata Motors Chairman Ratan Tata announces the pull-out of the small car factory from Singur in Kolkata — PTI photo
Untold story of AIDS
HIV/AIDS was first found in India among commercial sex workers of Chennai in 1986. The same year an American patient was diagnosed with the virus in CMC, Vellore. The story of HIV/AIDS in the country is the story of many pioneering protocols in testing, counselling, campaigns and government initiatives, writes Papri Sri Raman
Nearly 25 years after it crept into the subcontinent, the story of AIDS and the virus that causes the illness, HIV, still remains hidden in the corridors of a small town teaching hospital in south India.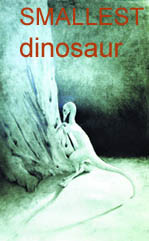 An artist's drawing of Albertonykus borealis (North America's smallest dinosaur) at the Department of Biological Sciences at the University of Calgary. The dinosaur is 70 million years old, the size of a chicken and looks like an animal created by 'Dr Seuss' — Reuters
A refuge for mind and body
Dharamsala is steeped in history and blessed by nature. Nestling in the Dhauladhar ranges of Himachal Pradesh, it is one of the most important centres of Buddhism, writes Mukesh Khosla
FOR those in quest of a place for a peaceful holiday, Dharamsala can be a perfect retreat. Since it is the seat of the Dalai Lama and the Tibetan Government-in-Exile, the very presence of so many monks can have a calming effect on the nerves.
Notes from the past
Siraj Khan
THE extended presence of Lata Mangeshkar and Asha Bhonsle on the Indian film music circuit ended the careers of many female singers. Yet, the contribution of playback singers such as Shamshad Begum, Sudha Malhotra, Kamal Barot, Usha Mangeshkar, Ruma Guha Thakurta and Mubarak Begum is unforgettable.
Elephants 'phone' their friends
A new research has shown that elephants use rumble vocalisations that can transmit over one and a half miles, in an attempt to contact other tuskers in their herd, which can be called as their version of "phone a friend".According to a report in Discovery News, the finding helps to explain how elephants almost always find their way back to their herd, even after they wander far off.
Cops blaze a new trail
From V. Shantaram's Do Aankhen Barah Haath to Neeraj Pandey's A Wednesday, men in uniform continue to hold appeal, writes M.L. Dhawan
MEN in khaki have played the central role in many a Hindi film. The cops are, at times, do-gooders, the kind who would brook nothing in their call of duty.
I liked the final script of Three Idiots: Chetan Bhagat
WRITER Chetan Bhagat, whose book Five Point Someone is being made into a film titled Three Idiots by the acclaimed director Rajkumar Hirani, said he was not involved in writing the film's script, but he liked it.