Untold story of AIDS
HIV/AIDS was first found in India among commercial sex workers of Chennai in 1986. The same year an American patient was diagnosed with the virus in CMC, Vellore. The story of HIV/AIDS in the country is the story of many pioneering protocols in testing, counselling, campaigns and government initiatives, writes Papri Sri Raman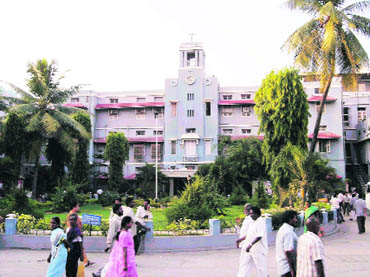 The Christian Medical College, Vellore, has a diagnostic virology lab since 1968. By late 1985, the institution had its first retroviral laboratory, where field units tested samples for HIV
Nearly 25 years after it crept into the subcontinent, the story of AIDS and the virus that causes the illness, HIV, still remains hidden in the corridors of a small town teaching hospital in south India. India will have 25 million HIV infected people by 2010, warns the World Health Organisation.
In this world view, India's journey in combating AIDS begins with one perfunctory line — HIV/AIDS was first found in India among commercial sex workers in Chennai in 1986. The names of all those doctors, nurses and lab technicians who first met with HIV/AIDS-infected patients in India are hazy.
The story of HIV/AIDS in India is, however, the story of many pioneering protocols in testing, counselling, campaigns and government initiatives. "A learning process that still continues", says T. Jacob John, who recently retired as Emeritus Professor in the Department of Clinical Virology at the Christian Medical College, Vellore.
The search for a beginning leads us to the last corner room of the R ward (the radiology ward) of the CMC where GW, an American patient, was admitted in October, 1986. A visitor to Bangalore, in the state of Karnataka, GW had severe skin lesions and was advised to go to the Vellore hospital, 250 km south-east of India's then-emerging IT capital.
Examination of GW led Jacob John to diagnose the American with AIDS, a disease India had just heard of the year before. The CMC, Vellore, had a diagnostic virology lab since 1968. In the early 1980s, Jacob John had been given reagents by the National Institute of Health, US, to study the hepatitis B virus in blood. Donor blood was being studied in India since 1972.
The hepatitis study was in six Tamil Nadu cities—Vellore, Chennai, Coimbatore, Madurai, Tiruchirapally and Salem—and he had collaborating research teams in several medical colleges. By that time, John also had a 'substantial' research grant from the Indian Council of Medical Research (ICMR).
"In those days Rs 15,000 was a comfortable amount, which our teams spent on travelling to collection centres in air-conditioned vehicles to preserve the samples", John recalled. " We had heard about the HIV virus and we knew that transmission was through homosexuality and blood transfusion."
By late 1985, the CMC had its first retroviral laboratory. "Our field units were testing samples for HIV, which had several different names then and was popularly identified as African skin disease. Where could we look for the virus? We decided to look at blood samples from men with sexually transmitted diseases who came to the CMC hospital. This was common sense. Frankly, we did not at that time find any samples from men having sex with men (MSMs) ", John said.
"We also began looking at commercial sex workers who were said to transmit STD to men. We could not just go and collect blood samples from sex workers. For that, we had to get special permission and a government order from then Health Minister H.V. Hande," he said.
John's team comprised Eric Simoes, a paediatrician from Goa, who now teaches in Denver, US, the late George Babu, a virologist, and a lab technician called John Viswasam.
How come a paediatrician was involved? "My Department of Clinical Virology had senior medical research officers who were either physicians or paediatricians", explained John. "It was Simoes' transmission studies which showed that HIV could be heterosexually transmitted. By 1986 we knew that commercial sex workers were high risk groups but wives of men who carried HIV were equally at risk. The wives were in completely monogamous relationships. So they could have been infected only through their husbands," observed John.
The CMC began testing anti-natal blood at about the same time and found evidence of mother-to-child transmissions, too. It also lobbied hard to make HIV testing mandatory for all blood donations.
One happily married man who was found to be positive in 1987 told us that the last time he had been to a commercial sex worker was three years ago, in 1984. So, HIV transmission had begun spreading in India as early as in 1984, may be a few years earlier.
Harriot Jayakumari was India's first HIV/AIDS counsellor, personally selected and trained by Jacob John, who convinced individually more than 400 women to submit to the hepatitis B and HIV tests. As many as 14 were found HIV positive. There were two arms of the tests. The samples being tested for HIV were also being tested for hepatitis B.
In February, 1986, after testing for HIV, Jacob's team returned a batch of same serum samples for hepatitis testing to a research team in the Madras Medical College, led by CS Lakshminarayana, professor and head at its Institute of Microbiology.
The test set had an identified sample, which was to be handled with 'extra care'. This sample had tested HIV positive at the retroviral lab study and became known as the 'first case of HIV/AIDS in India'.
The sample belonged to a woman and was identified by S. Nirmala, a postgraduate student under Lakshminarayana, who was being advised on her thesis by Suniti Solomon, who was then professor in the department.
There was, of course, panic as soon as the media went to town on AIDS. It was assumed that commercial sex workers in India had contacted HIV through foreign clients. The government came out with an order that any foreigner found with HIV/AIDS would be deported at once.
When the American, GW, came to the Vellore hospital that October, there was considerable consternation among doctors and nurses. There was natural hesitation among the care professionals whether they would be infected.
"I took my entire staff one day to GW's room. I went and sat on his bed, put my arms on his shoulder, and had a chat with him on his options. My message to the CMC staff was loud and clear. HIV/AIDS was not a disease that could spread by touch. We told him that he could leave the hospital and would be on his own," said John.
"India could deport him if his condition became known. Or, we could seek the US Embassy's assistance to send him back to the US. GW chose to be repatriated. I escorted him to Chennai, then Madras, and saw him on an Indian Airlines flight to Delhi where the US mission took charge of him", Dr Jacob John recalled.