Smart Skills
In quest of a cure & big bucks
Usha Albuquerque
As India emerges as an ideal location for clinical research trials for the pharmaceutical industry, a McKinsey report predicts creation of over 50,000 jobs in clinical research over the next couple of years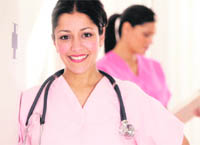 EVERY time we have a headache we pop a pill and feel better. The same holds for a stomach-upset, viral fever, allergy or a more serious ailment. Hundreds of medicines and drugs are available today to help prevent and cure numerous diseases. Teams of scientists, physicians, nurses, dentists, pharmacists, and other health professionals have been involved in research that has made available thousands of medications, healing procedures and processes that have revolutionised healthcare. This explosion of new information has introduced novel diagnostic and therapeutic approaches to many of the human diseases.

Clinical research has made it possible for information from molecular biology and genetic studies to be clinically evaluated for effectiveness as standard therapies. It is a scientific study of the effects, risks, efficacy and benefits of a medicinal product or pharmacological therapy. The research is carried out prior to the release of the medicine in the market, and trials are undertaken at various stages, including after the launch of a new product, to monitor safety and side effects during large-scale use. Clinical trials are necessary because the outcome of treatments is often variable and dependent on the diverse social and behavioral attributes of patients.
Moreover, as more and more medicinal products and therapies are added onto the health system, research organisations and pharmaceutical companies are continuously involved in expanding clinical research expertise.
Work in clinical research
A CLINICAL research professional is responsible for the development of a clinical research plan and the implementation and collection of research results from the scientific study of the effects, risks and benefits of a medicinal product, including new drug substances and currently marketed drugs. Research organisations or pharmaceutical laboratories carry out most clinical research on behalf of a sponsor or drug company. The clinical researcher studies issues and concerns related to the product or medicinal study being conducted and needs to understand the etiology of disease and the disease process so as to be able to identify and evaluate potential treatments and their outcomes. The clinical research associates — as they are often called — or scientists, are responsible for conducting all the activities required for the research and for monitoring the studies conducted. This may involve keeping records of scientific studies, preparation of patients, presentations, manuscripts of scientific meetings and technical journals.
Clinical research is carried out in four phases. In the first phase a new drug is administered to a small number of informed volunteers. Clinical research associates and investigators are in constant contact with the control group asking questions and studying responses and results to determine whether the patient's body tolerates the new medicine and behaves in the predicted way. Over the next three phases, the trial group is enlarged and the clinical and statistical results analysed. If the results are favourable, the company will submit them to the Drug Controller General India (DCGI) or FDA to obtain a New Drug Approval (NDA). Once the regulatory authorities grant an NDA, the company can market the drug. If not, the drug goes back to the laboratory for further tests. Additional testing looks at the rare adverse effects.
The job of a CRA can vary tremendously from company to company. In some companies, the candidate would be involved in the whole process — from sitting down with the doctor who has the idea for a trial and actually working out a protocol to writing up reports after the analysis has been done. In other companies it would be the medical advisor who initiated the trial and the CRA could just be involved in collecting data once the trial has been set up. The work is mainly in the field — visiting trial centres, general practitioners (GPs) or hospitals; dealing with doctors and research nurses.
There are a number of jobs within the field of clinical research and vary according to the research being conducted. In some, clinical research associates are involved in the whole process of data management and analysis, in others tasks are more specific.
As a clinical data associate, analyst or investigator you will have an opportunity to watch a new drug move through the research process. Those in data management and data coordination are more involved in data-related activities such as tracking, reviewing, validation, updating and safety coding. You will also review and process clinical trial data to ensure the accuracy and consistency of the clinical databases. Other jobs in this field include those of biostatistician, drug development, business development, project management, and so on.
Getting In
CLINICAL research is a combination of medical practice, pharmacy and research and so requires a strong scientific background. Science graduates from pharmacy, medicine, life science, nursing and biosciences, including botany, zoology, biochemistry, genetics, immunology, pharmacology, physiology or toxicology, are best suited for the industry.
A statistics or database specialist degree, degrees in computer science or other IT degrees are requirements for entry into clinical research data management work. Those already working in the medical or life science fields such as nurses, doctors, laboratory technicians, and pharmacists, as well as IT professionals and statisticians and management graduates can also get into this career.
Having relevant pre-entry experience is desirable and could include statistical work or data management, a medical practice, a nursing background, medical sales, clinical laboratory work, clinical data work or pharmaceutical research.
There are postgraduate degrees and diplomas in clinical research being conducted by several institutes. For those interested in serious research work, a PhD is ideal. Studying further will also help better your current job profile. Those with work experience in the healthcare sector have better career prospects.
Career prospects
CAREER prospects include a professional career in the clinical research industry either as a clinical investigator, or research associate at a hospital conducting clinical investigations or a clinical research organisation. Jobs are also available in the pharmaceutical industry, drug development, medical writing, biostatistics or as a manager of a clinical project, clinical research business development, clinical operations, data management, regulatory affairs and auditing of clinical trials.
With hundreds of medical formulations coming out into the public domain, the clinical research industry the world over is growing at an unparalleled rate. As only one in five drugs tested ever becomes available to the public, it's important to conduct and support many different trials at the same time. For this specialised manpower is in constant demand.
India is increasingly being recognised as a quality player for global clinical trials. We have a large population with a substantial workforce of trained science graduates which influences multinationals to set up research facilities here. Besides, due to the large and diverse pool of patients and the prevalence of a large variety of diseases, including widespread cases of cancer and diabetes, India is viewed as an ideal location for clinical research trials for the pharmaceutical industry.
According to a McKinsey report, with the global clinical trials being increasingly outsourced to India, there will be a requirement for over 50,000 jobs in clinical research in pharmaceutical and biotechnology companies and contract research organisations over the next couple of years. India has numerous clinical research players who are ready with a global standard infrastructure and the manpower to support drug development initiatives of several pharmaceutical companies and entrepreneurs. As the number of studies carried out by these major players is on the rise, the career prospects for clinical research professionals looks positive.
There are hundreds of top indian pharmaceutical companies such as Ranbaxy, Dr Reddy's Labs, Biocon, Dabur, Wockhard, Merck, Astra Zeneca, including many such as GlaxoSmithKline, Johnson & Johnson, Roche, Novartis, Pfizer that have dedicated clinical research department. Trained clinical research professionals are also in demand abroad with more than 200,000 positions vacant worldwide.
Along with the high demand, clinical research specialists can also hope to earn well. Starting salaries in this field for trained professionals can range from Rs 2–3 lakh a year. Those who have a master's degree backing your qualifications can expect to earn almost double. Clinical research is an industry where experience counts. Thus, the longer you are in this field, the higher the salary you can expect.
However, it is a medical field and is, therefore, best suited to those with a scientific bent of mind, sensitivity to others and a humane attitude. You will also need to have good communication skills so as to interact with and gain the confidence of patients and subjects undertaking the trials. Give the challenges of the job and the projected growth opportunities clinical research promises to be an interesting career option of the future.
Institute watch
SOME well-known institutes offering courses in clinical research include
n Institute of Clinical Research, Delhi
It offers a two-year, full time M.Sc in clinical research and a one-year postgraduate diploma in clinical research in collaboration with Cranfield University, UK. Students can choose to complete their course at Cranfield.
Website: www.icriindia.com
n Academy for Clinical Excellence, Mumbai
It is a clinical research training institute set up by pharma giant Pfizer in partnership with Suven Life Sciences and Bombay College of Pharmacy for training professionals in the field of clinical research.
Website: www.aceindia.org
n St Xavier's College, Mumbai
It offers a postgraduate diploma in clinical research
n Bilcare Research Academy, Pune & Bangalore
Accredited by the Association of Clinical Research Professionals (ACRP), it offers training in clinical research.
n Amrita Institute of Medical Sciences and Research Centre, Cochin
It offers a diploma in clinical research
Many of the courses include hands-on training where students are placed in pharma companies and clinical research organisations, and are required to submit a project report before the final exam.
(The writer is a career counsellor)