Creating A Livelihood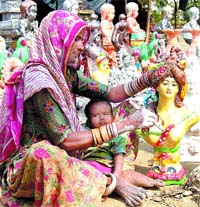 A roadside artisan touches up a sculpture in Jalandhar. Photo: Suryakant
Sculptors' joy
Kapurthala, October 14
Eminent sculptors from north India, led by renowned artist RC Sagar, will carve out sculptures for next ten days at Nawab Jassa Singh Ahluwalia Government College here.
Aditya, Suman earn berth to golf tourney
Jalandhar, October 14
Aditya Gupta and Suman Puri booked their place in the Jalandhar Golf Club team for the Northern Zone regional final of the McDowell's Signature Club Golf Championship. In the intra-club tournament, the first stage of the multi-city event, held at the Jalandhar Golf Club here on Saturday, Aditya Puri who tallied 34 stableford points emerged as the winner in the 0-8 category, while Suman Puri emerged as the runners-up.
Young World
A gift for someone spl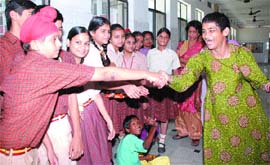 Jalandhar, October 14
The St Soldier Management and Technical Institute, Kapurthala, organised a seminar on the World Trade Organisation (WTO) on Saturday. As many as 200 students of MBA participated in the function. Prof Rashpal Singh from Layallpur Khalsa College addressed the students and explained the importance of the WTO and its impact on business world.

Students of St Soldier Divine Public School interact with inmates of Pingla Ghar.
Walk to fight arthritis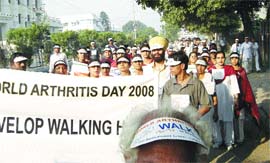 Jalandhar, October 14
As part of worldwide "walks" to promote and inculcate the habit of walking, a local hospital organised a special walk in view of World Arthritis Day on Sunday. Over 250 persons participated in the walk started from Satyam Hospital, Kapurthala Chowk and culminated at Apeejay School.
Participants during a walk organised on World Arthritis Day in Jalandhar.
Letters
More and more vehicle owners these days are using LPG meant for domestic use in their vehicles as fuel. They don't realise that this way they are harming society at laarge. On the one hand they create shortage of LGP refills for consumers and on the other they put their own life as well as that of members of the family in danger because it has never been safe to use LPG with market-fitted kits of poor quality. Also they endanger the life of other road users.