Write ahead
City author Tishaa is leading over the hotties of tinsel town in the MTV youth icon contest. Here, she talks of the race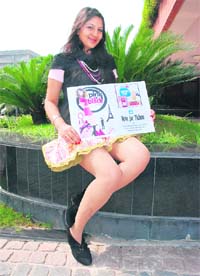 AT 11 in the morning on Tuesday the margin between the votes of two main nominees for the MTV youth icon contest was around 6,000. The presumption was that the competitors were big hotties of the glam world, blessed with the looks and charm. Sure enough, the suave Ranbir Kapoor and Shahid kapoor and hunk Salman Khan were in the race but what came as a pleasant surprise was the name leading the list. — Photos S. Chandan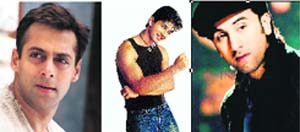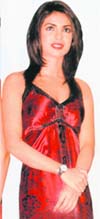 Wrap sody
The humble scarf serves as a hair accessory, a stole and now, as a dress. Priyanka Chopra flaunts it and so do some city girls
THINK satin, think scarf. A square piece of garment that we all have been in love with is back in vogue, but in a new avatar. Courtesy, the fashion pundits who finally recognised the value of this piece of garment and are making sure that you get to wrap them all around your body. In beautiful shapes and prints extended to form a dress and worn like one scarf dresses have been sported on international and our desi divas on all Page 3 bashes, premieres and promos. In short, they are a rage. Shelly of Shelly's-8, says, "Satin dresses with floral patterns are being received well in the city. There are a lot of variations with the knots. Earlier, the knot used to be in the centre but now it is going up."
Do ka dum
Tinsel town queen Katrina has gotten twice lucky. She's just bagged a two-film deal with UTV


AFTER delivering an array of hits, Bollywood's current reigning queen Katrina Kaif has signed a two-film deal with production house UTV that has hits like Rang De Basanti, Khosla Ka Ghosla and Jodhaa Akbar to its credit. The two films, to be released within two years, will be Katrina's first projects with the production house and she is very excited about the deal.



Katrina Kaif
What will be, will be
Jennifer Aniston, who called it quits with singer John Mayer in August, is happy being single, her friends revealed. The Along Came Polly star has been featured regularly in the entertainment news for her recently speculated link with actors Leonardo DiCaprio and Gerard Butler. However, despite her string of failed relationships, including her marriage with Brad Pitt, the former Friends actress is said to be hanging in strong. Her friends insist that she is actually happier alone, the China Daily reports.
Jennifer Aniston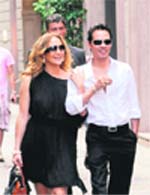 I do, again
Celebrity couple Jennifer Lopez and Marc Anthony have renewed their wedding vows away from the public eye in Las Vegas. The duo, who tied the knot more than four years ago, repeated their promises and commitments to each other at Caesars Palace's Forum Tower Penthouse at 3:15 a.m. on October 12. They decided on their renewal ceremony, witnessed by two friends, after having spent the night at Pure Nightclub, a representative for the hotel confirmed.



Jennifer Lopez and Marc Anthony
Wooing sleep with $65,000
Dollar dreams, literally. Angelina Jolie has splurged a fortune on a horsehair mattress in a bid to get some sleep


Angelina Jolie has spent a whopping 65,000 dollars on a horsehair mattress in a bid to help her sleep. After reportedly struggling to sleep since her twins Knox Leon and Vivienne Marcheline were born in July, the Changeling actress finally decided to invest in the expensive handmade bedding.
Tale piece
l Travel light, who Care(y)s?
l Copycat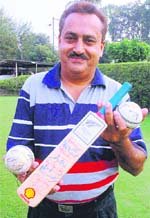 A different ball game
A two-decade-old passion of gathering letters, balls, bats and cricketers' autobiographies have made for this collector's addition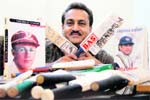 FOR a cricket crazy country of two billion, who live and breathe the game, cricket is much more than a pastime. And tossing the ball more than thoughts, for Dharmveer Duggal a city resident it's the game of bat and ball that drives him to his only hobby, better call passion of collecting souvenirs of the game.



Dharamveer Duggal
— photo Parvesh Chauhan
Glare of gold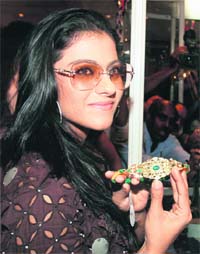 Actor Kajol Devgan strikes a pose at the inauguration of the Festival of Golds-2008 in New Delhi on Monday. PTI photo/Manvender Vashist

I SPEAK
Speak Gift of the grab
Teenage punchtantra
OVER one third of 15-year-olds in Britain have had a punch-up in the last year, new figures have revealed. In fact, Brit teens are also among the world's biggest young boozers and almost 25 per cent of 15-year-olds go for a drink at least once a week. The shocking figures have been revealed in the new edition of The Economist newspaper's annual Pocket World In Figures.According to statistics, almost one in ten 15-year-olds regularly smoke cannabis and UK teenagers are also among the biggest surfers of the Internet, with 57 per cent using a computer at least for two or more hours every weekday.