PUNJAB

HARYANA

JAMMU & KASHMIR

HIMACHAL

REGIONAL BRIEFS

NATION

OPINIONS

LETTERS

BUSINESS

SPORTS

WORLD


Every Wednesday & Saturday

Trouble Season
Crackdown on spurious mithai makers
Amritsar, October 17
The reports of spurt in import of adulterated khoya and milk products from other parts of the country into Punjab, in view of ongoing festival season, has started giving sleepless night to the health department, which has stepped up checks at sweetmeat shops in and around the city.
Crackers to be sold in notified areas only: DC
Amritsar, October 17
In view of the illegal sale of firecrackers in various parts of the city, the district magistrate here has banned the sale of firecrackers except in the areas notified by the district administration, that too after taking requisite permission from the authorities.
MC to introduce e-governance soon
Amritsar, October 17
The local municipal corporation would soon introduce e-governance to facilitate the general public, especially the business community, in paying their taxes through the Internet.
City not ready to fight fires: NDMA
Amritsar, October 17
The National Disaster Management Authority (NDMA), which has been set up after the Tsunami destruction, recently reviewed the city fire-fighting arrangements. The committee reportedly found many deficiencies, including severe crunch of fire tenders, modern equipment and trained manpower, in disaster management system conceived by the district administration in case of major fire.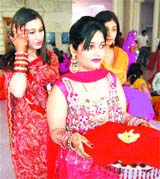 Karva Chauth was celebrated with great enthusiasm in Amritsar on Friday.


More cross-border Hindu weddings likely
October 15, 2008
For entire city, just two food inspectors
October 11, 2008
Amritsar love surfaces in New York
October 8, 2008
A blind eye to trash trouble
October 4, 2008
Prospective donor goes missing
October 1, 2008
Joshi, police cross swords again
September 27, 2008
Impasse over, MC to induct 600 staffers
September 24, 2008
MC men's gift to mayor: Truckload of trash
September 20, 2008
Devp projects over 3 cr under govt's eye
September 17, 2008
DSP to probe; charge could not be substantiated: SP (D)
September 13, 2008