This Above alL
I donít smoke, but oppose the ban
Khushwant Singh

I do not smoke but I do not mind people smoking in my presence. I keep a couple of ashtrays in my sitting room for them. Most of them ask my permission before they light their cigarettes or cigars. I am aware that excessive smoking is bad for health and may lead to lung cancer.
I also know smoking in moderation is harmless and gives some kind of pleasure and relaxation to those who indulge in it. In any event, if anyone smokes, it is his or her business. I have no right to tell them to desist. It is none of my business.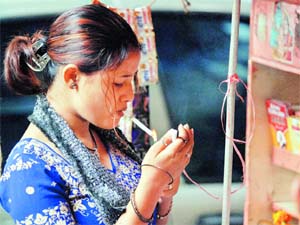 The administration should persuade people not to smoke. Legal action will not help
But I am against the governmentís ban on smoking in public places. It is none of its business. It will not work just as prohibition did not work. It will open up more opportunities for the police to harass people and extort money from them. Persuasion, yes; legal action, no. What is a public place? Is a panchayat ghar or a chaupal in a village a public place? Then elders of the village who gather around and pull at a hookah in turns would be punished.
Kisan leader Mahinder Singh Tikait, who flourishes his hookah as he addresses large crowds in towns and cities, including Delhi, would be promptly slapped with a heavy fine. People have sung praises of cigarettes and cigars. To Robert Benchley they signified a stress-free holiday. "Tobacco smells like Saturday, and consequently, puts me in a chronic holiday mood", he wrote.
Hemminger went lyrical over it:
Tobacco is a dirty weed;
I like it;
It satisfied no normal need;
I like it;
It makes you thin, it makes you lean;
It makes the hair right off your bean;
It is the worst darn stuff, Iíve ever seen;
I like it.
There is something which makes those who have kicked the habit of smoking into insufferable bores because they never stop boasting about it. Mark Twain got them right when he said: "To cease smoking is the easiest thing I ever did. I ought to know because Iíve done it a thousand times".
I wonder how the ban will affect our cigarette manufacturers like Imperial Tobacco Company and cigar importers like Chetan Shah. He always carries a sample or two of his most expensive imports from Havana in his pocket. He never answered my question about the costs involved (I am told over Rs 1,000 each), and shrugs me off with the reply: "Why do you want to know when you donít mean to buy any?"
Gadar movement
Not much is written about the Gadar movement in books of Indiaís freedom movement. The principal reason for glossing over it was that its activities were confined to the West Coast of Canada and the US, and it was largely limited to rustic Sikhs with a sprinkling of educated Hindus and Muslims, who initially gave it direction and then disappeared from the scene. Most of the literature on the subject is in Gurmukhi, one book in English by Satinder Singh and myself and a chapter devoted to it in my A History of the Sikhs Vol. II (1849-1988) published by the Oxford University Press.
During my research on the subject in Vancouver (Canada) and San Francisco (US), I unearthed a lot of valuable material on the Sikh emigrant community, mostly employed in lumber mills and farms, on activities in their gurdwaras and the arrival of the ship, Koma Gata Maru, with over 300 would-be emigrants, all Sikhs. I made photostat copies of the weekly journal Gadar published initially in Urdu, then in other Indian languages, with Gurmukhi enjoying the largest circulation.
I did not come across the name of Pandurang Khankhoje. He either used an alias or remained in the background. Now his daughter, Mexico-born of a Belgian mother, Dr Savitri Sawhney, has put together her fatherís memoirs written originally in Marathi on his return home after 50 years of self-imposed exile in different parts of the world. Gadar forms a small part of his published autobiography. It has been recently published.
For good reasons Gadar has been taken little notice of by historians. It was limited to the early years of World War I (1914-1919). Its operations were limited to the Pacific Coast of Canada and the US. Of those who returned to India by the Koma Gata Maru, 18 were shot by the police at Budge Harbour. The rest found that there were no takers for a revolt against the British. They meant to kill all English rulers but managed to kill only an Anglo-Indian informer in Vancouver for which Bhai Mewa Singh Granthi was hanged.
The one thing unique about Gadar was that it was the first independence movement which embraced all communities, including Muslims. One of their songs went as follows: Though Hindu, Mussalman and Sikh we be;
Sons of Bharat we are still;
Put aside our arguments for another day;
Call of the hour is to kill.
Pandurang Khankhoje left India in 1096 and returned 50 years later. He was not a founder-member of the movement as claimed by his daughter. He spent most of his years in Mexico as an agricultural scientist. One can understand a daughterís admiration of her father and make him out to be a hero. His own writings which form less than a quarter of his memoirs do not subscribe to her glorified portrayal of him.
Wish granted
Manohar daily prayed to God to help him out of his troubles. Finally, God took pity and appeared before him. "What can I do for you?" asked God. "Can you grant all my wishes?" asked Manohar. "Of course, I can, I am God". "Then please, God, give me a good job, a bag full of money and several ladies around me", begged Manohar. God granted him his wish. He made him a bus conductor on a Ladies Special.
(Contributed by Rajeshwari Singh, New Delhi)