Return of the musical
Call it the increasing influence of Bollywood or the global economic crisis, Hollywood is rekindling its affair with the feel-good musical, writes Arifa Akbar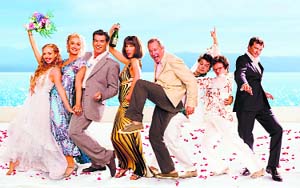 Mamma Mia! is credited with bringing back the musicals



Keira Knightley may soon be cast as the cockney flower-seller Eliza Doolittle in a film remake of My Fair Lady
THEIR upbeat plots and jolly tunes gave the public a boost in the aftermath of the 1929 Wall Street crash. Now, amid the latest economic turmoil, musical films are back and aiming to bring more light-hearted relief to modern-day audiences.
Long after such stars as Fred Astaire, Ginger Rogers, Doris Day and Gene Kelly waltzed and warbled their way across the silver screen, Hollywood has rekindled its love affair with the feel-good musical, casting some of the industryís biggest names in singing and dancing roles.
Meryl Streep recently won acclaim for her portrayal of a single mother in the Abba theatre musical spin-off Mamma Mia! and there are rumours that Keira Knightley is soon to be cast as the cockney flower-seller Eliza Doolittle in a film remake of My Fair Lady.
Disney, Columbia, Screen Gems, MGM and Paramount are among the studios preparing musicals, apparently driven by the ever-increasing popularity of reality TV dance competitions among younger viewers.
An article in Variety reported on the growing trend and said: "Itís beginning to look a lot like the 1930s. The economy is in the toilet and Hollywood studios are filling their pipelines with upbeat dance films, particularly teen hoofers."
What Variety has noted is that the film industry appears to be feeding the appetites of young female cinemagoers who flock to dance musicals. It wrote: "Has the ghost of Busby Berkeley infiltrated the high school cafeteria? Or is Hollywood hedging its bets by bringing modestly budgeted crowd-pleasing films to an under-served teen girl market?"
The musical film has been making a gradual comeback in recent years with a number of high-profile biopics based on the lives of iconic singers including Walk the Line, the Oscar-winning dramatisation of the life of country singer Johnny Cash, and Piaf, a French-made biopic whose lead star, Marion Cotillard, claimed this yearís Academy Award for best actress. But it is Mamma Mia!, which has taken more than $500m at the box office since opening this summer, that is credited with bringing the song and dance musical film back into fashion.
Musicals in the pipeline involve the biggest names in the industry ó both actors and studios. The Weinstein Company is preparing for its forthcoming musical, Nine, having secured an all-star cast, including Daniel Day-Lewis, Penelope Cruz, Kate Hudson, Sophia Loren, Nicole Kidman and Dame Judi Dench, as well as Cotillard.
Paramount is on the verge of giving the green light to a $35m remake of Footloose reuniting the star and director of Disneyís High School Musical franchise, Zac Efron and Kenny Ortega. The original film starred Kevin Bacon as a teenager who defies the conservative anti-singing and dancing rules of the town to which he moves.
The 1980s film Fame, which spawned a long-running television series and West End stage show, is also set to be revived for the cinema, while a modernised version of Jane Austenís Emma, called Emme, which relocates the drama to an inner-city school, is in development. Despite insisting that she has not yet secured the role, Keira Knightley is the favourite to reprise Audrey Hepburnís 1964 turn as Eliza Doolittle in My Fair Lady and has even apparently begun taking singing lessons. She is reported to have told MTV in an interview: "Itís an interesting prospect, but thereís nothing concrete. I like doing things where Iím not sure if Iím going to be able to do them or not (like singing). I think you have to push yourself. You have to admit youíre going to fail at some point. Like with anything I do, thereís always a part of me that says, ĎI canít do that. This is going to be the one where I fall on my face completelyí. It would be exciting to try it."
But where Variety has suggested that the return of the musical is all about money, or lack of it in the world economy, some believe their rebirth is down to the rising influence of Bollywood.
The superstar director and head of DreamWorks studio, Steven Spielberg, recently left his long-time partner, Paramount Pictures, to set up a new company with Indiaís Reliance ADA Group. The $1.5 billion venture will produce up to 35 films over the next five years. The move is part of a growing desire in Hollywood to ride on the coat-tails of the booming Indian movie industry, which rarely produces dramas without song and dance.
News of Spielbergís deal came days after 20th Century Fox signed up Vipul Amrutlal Shah, one of the most successful producers of Hindi language cinema. Nick James, editor of the British Film Instituteís Sight and Sound magazine, said: "The growing success of Bollywood films all over the world suggests you can be more successful if youíre doing something similar," he said. He added that modern musicals could benefit by aping what brought studios success in the 1950s.
"The MGM musicals of the 1950s were sublime. It would be interesting if people started making films based on musical talents," he said. "We would, then, have an awful lot of people who would be better at singing and dancing. Maybe, we are going back towards that."
By arrangement with The Independent