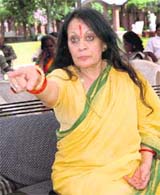 Lotuses & laments
In town to present a choreography, Lotus of Creativity, danseuse Sonal Mansingh raises a lament for the state of Indian classical dance in this age of Bollywoodisation of naach
"The codes of Indian aesthetics are not limited to a particular discipline but profusely strewn all over our cultural heritage dating back to the prehistoric period and the vedic age to the modern era. Its exploration, as such, is not only timeless but endless too," says, the queen of Indian classical dance, Padma Vibhushan Sonal Mansingh.
Green against red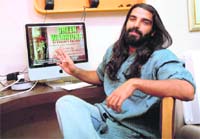 Doc Gaurav Chhabra's short film Green Warriors takes up the cause of a 225-year-old pond in the city
We had written about this young doctor Gaurav Chhabra when his short films Mudcake and Taste of Berry made news. He had sidelined his medical profession to attend to his true calling - environment activism, for which he has coined a new terminology — video activism. And the subject he has picked this time is a heritage pond in Sector 26.
All set for Mahindra's Great Escape
Want to get dirty in the slush, and enjoy it as well. So, here is your chance to do so. Mahindra & Mahindra organises the 46-leg Mahindra Great Escape in the city on October 19 from Lake Club. The event offers a perfect terrain to challenge Mahindra enthusiasts in the northern region. The Great Escape is a non-competitive adventure rally, which promises an action-packed offbeat rally.
Vanity vistas
Vanity Fair —A Winter's Tale is here to welcome the festive season again at Whispering Willows. There will be over 100 stalls and 20 in the Willow Bazaar from all over across the country.
Goa to Guwahati
Guwahati will host the International Film Festival for documentary, short and animation films for the first time.
Mumbai Meri Jaan
The seventh edition of the Asian Film Festival in Mumbai is showcasing 80 films of 20 countries, from Palestine to Egypt
Mumbaikars will get to savour the best of Asian cinema, including from Mongolia, with an eight-day-long film festival in Mumbai that kicked off on Thursday evening. Maharashtra Chief Minister Vilasrao Deshmukh, inaugurated the seventh edition of the Asian Film Festival. The festival will showcase 80 films from 20 countries of Asia as well as from Palestine and Egypt.
Customer & couture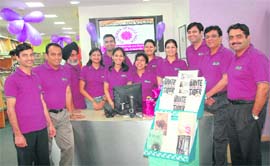 PURPLE PRET & WHITE TIGER: As part of the Customer Service Week being observed at British Library-9, its staff stand attired all in purple. Lifestyle photo: Manoj Mahajan
Adnan in Britain
Musician-singer Adnan Sami returns to Britain after three years and promises to wow Londoners this weekend when he performs with his full live orchestra on October 18 and 19. He will be accompanied by co-artists Monali Thakur, who came ninth in Indian Idol 2 and Indian playback singer Javed Ali, who has shot to fame in 2007 when he sang Ek Din Teri Raahon Mein from the movie Naqaab.
Rahman goes the reality way
Noted music composer A. R. Rahman and Phat Phish, an integrated entertainment and communication company, have joined hands to launch India's biggest reality show of its kind —The Big Band. The official announcement was made in the national capital.
Cause and applause
From silhouettes in mountainous prints to a palette inspired from pink lilies for promoting breast cancer awareness, Day 2 of the WIFW had a blend of colour and cause
The second day of the Wills Lifestyle India Fashion Week turned out to a real scorcher with Bollywood beauty Deepika Padukone walking the ramp last night for Shantanu-Nikhil's dramatic Ladakh-inspired collection and actresses Sameera Reddy and Minissha Lamba presenting Falguni and Shane Peacock's utterly mesmerising collection promoting the cause of breast cancer awareness.
Kabul express
The CII shopping fest brings flavours from Afghanistan & Pakistan too
The baap of all festivals is here and as we gear up for the D-day. Read Diwali, the ongoing CII shopping fest at sector 17 parade grounds gets for you an array of thingamajigs. An annual feature of sorts, it houses the best of brands, so all you have to do is pick and move.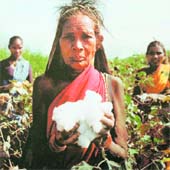 A photograph on display at the venue
Smiles & tears
The much-hyped 'India Shining' campaign is a thing of the past for many of us, but for Johann Rousselot, a French photojournalist, it stirred up a new project and the end result is here for all of us to see - a series of photographs on display at the gallery of Alliance Francaise de Chandigarh-36 under the banner of India Shining India Crying. True to the caption, the photographs reflect both aspects of India - prosperous, glittering India where tall buildings, multinational companies dominate showing all the façade of urban life and on the other hand without breaking then line of thoughts, Rousselot captures the other side, where desperation and poverty prevails.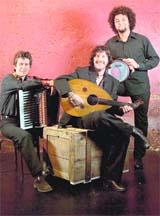 Titi Robin with his band members
Gypsy beats
For Titi Robin, a French guitarist, Indian music is a major source of inspiration
Yet another fan of songs from Raj Kapoor's films, this man firmly believes in communicating in the language of music. This is why though a thorough-bred Frenchman, he can easily comprehend the sentiments behind bhajnas and hymns in praise on Indian deities. Titi Robin, a gypsy guitarist, reaffirms his conviction once again, "I have performed with musicians from all over the world, even from Rajasthan and kawals from Lahore. And though we come from diverse backgrounds, what makes it easy to create harmony is that we understood the language of melody."
French chai
Alain Andre from France is here to titillate your tastebuds
We mention France. And what comes to mind? Wine, fashion and Le Corbusier, not necessarily in that order though! Well, now it's time to associate it with food. Alliance Française-36 is celebrating its 25th anniversary and on the occasion, French cook Alain Andre is dishing up some dishes.