Teacher beats up 2 deaf and dumb kids
S.P. Sharma
Tribune News Service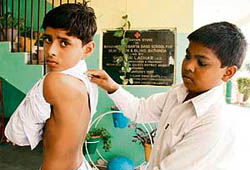 Yashpal, helped by classmate Rajveer, shows his bruises. — Tribune photo by
Kulbir Beera
Bathinda, October 18
In the first-ever incident of corporal punishment in the deaf and dumb school here, a teacher is alleged to have mercilessly beaten up two students of Class III. The school is being run by the Red Cross Society. Both students, bearing scars on their body, narrated the incident to mediapersons today with sign language.
Deputy commissioner Rahul Tiwari, who is chairman of the district Red Cross Society, said he had ordered sub-divisional magistrate Talwandi Sabo, who is also honorary secretary of the society, to investigate into the incident and strict action would be taken against the teacher if he was found guilty.
Principal of the school Maninder Kaur said yesterday's incident has shocked her. This was for the first time that such an incident of thrashing of deaf and dumb students by a teacher had occurred in the school. She said there were instructions that no teacher should indulge in corporal punishment.
Parents of the two students, Yashpal and Rajveer, have lodged a complaint with the principal. Rajveer, who belongs to Faridkot, was living in the school hostel.
The two students claimed they were innocent and did not know why the teacher, Deepak Sinha, got furious and thrashed them. The teacher's wife was taking the class when he came and started beating them up.
Yashpal alleged that he was dragged and kicked by the teacher.
Sinha, however, claimed the parents of the two boys were trying to make an issue out of nothing. "The boys were disturbing other students and not allowing them to study as a result of which they were only slapped."
He also alleged that Yashpal's father had himself beaten up the boy with a stick a few days ago when he had disobeyed him.
Sinha maintained that he was teaching in the school for the past 10 years and never before such a complaint had come.