Fat mums more likely to have chubby babies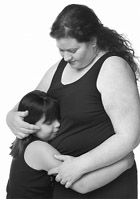 Melbourne: Overweight mums are more likely to have plump babies, setting them a lifetime risk of diabetes and other obesity-related illnesses, studies have shown.
One study has revealed that one in three Aussie babies are at an increased risk of becoming overweight because their mothers are obese, with researchers believing that the brain's appetite controls can be set in early life.
"Maternal obesity and overfeeding early on in life caused significant changes in the chemicals that regulate appetite, which may suggest that the babies were programmed to eat differently from those born from lean mothers," The Daily Telegraph quoted lead author Professor Margaret Morris as saying. — ANI
Drug promises to reduce chronic pain
Washington: A new study has revealed that the drug Pregabalin can significantly reduce the incidence of chronic pain before and after total knee replacement surgery, and increase and expedite after-surgey mobility among patients.
"While TKR is an effective surgical treatment one of the complications is chronic pain, a debilitating condition that can lead to a substantial reduction in quality of life with few effective treatment options," said Dr Asokumar Buvanendran, associate professor of anaesthesiology and director of orthopaedic anaesthesia at Rush Medical College, Chicago, Illinois.
"Searching for ways to improve the patient surgical experience, we evaluated Pregabalin for effectiveness not as a treatment for chronic pain, but as a preventative of chronic neuropathic pain after surgery," the researcher added. — ANI
Folic acid-rich diet 'boosts' men's fertility
Melbourne: Just like women, men too should take diet rich in folic acid and other vitamins if they're trying for a baby. That's the message of a fertility specialist.
What's more, men should stop smoking, reduce coffee and alcohol intake if they are planning for a child.
A study of almost 800 men who presented to a Sydney-assisted reproduction unit found a "staggering" 59 per cent had nutritional deficiencies, including lower than normal levels of folate or vitamin D.
Clark, Fertility First medical director, said a similar number of the would-be fathers had high levels of damaged sperm, a key factor in infertility normally associated with infection, advanced paternal age or smoking. — ANI
Brain's fatty acid could help treat Alzheimer's
London: A new study has suggested that controlling the level of a fatty acid in the brain could help treat Alzheimer's disease.
Researchers at the Gladstone Institute of Neurological Disease (GIND) and the University of California found that complete or partial removal of an enzyme that regulates fatty acid levels improves cognitive deficits in a mouse model of Alzheimer's disease (AD).
"Several different proteins have been implicated in Alzheimer's disease but we wanted to know more about the potential involvement of lipids and fatty acids," Nature quoted Lennart Mucke, GIND director and senior author of the study, as saying. — ANI